How to Design Pins Pinterest LOVES
We've been hearing that Pinterest now favors "fresh pins" and are increasingly prioritizing fresh content in the Pinterest search results. 
Fresh Pins are defined as "images or videos that they haven't seen before. You can create several images that link to the same blog post, page, or product listing, and each of those would be fresh when saved to Pinterest for the first time."
https://support.tailwindapp.com/en/articles/3702827-pinterest-best-practices-faq
Depending on what your Pinterest marketing strategy is, this new emphasis on fresh pins may call for considerable changes in your content and pin creation strategies. Relevancy is still important of course, but recency and fresh content is becoming more important and will continue to be increasingly factored into the Pinterest algorithm over time.
Pinterest did a Facebook LIVE with Tailwind where they announced how going forward, sharing fresh content (pins) will help you get a better distribution of your pins.
Updated Best Practices – Right from Pinterest!
As you can imagine, some confusion began to circulate over what a "fresh pin" means exactly.
Do we as marketers now need to create more new pins?

Can we only pin a fresh pin once?

How long is a fresh pin considered fresh?

Does a fresh pin mean only one pin can go to fresh content on a blog or site?
We thought it was confusing as well so we dug into posts, videos, and other resources. As we researched, we noticed there was further confusion around "fresh pins" vs "fresh images" vs "fresh content."
Here's what we found out.
Pinterest Users Prefer Fresh Content
Pinterest started noticing that users interact more with pins that were shared for the first time than previously shared pins. This is not all that surprising. We would think most people like to see new things on Pinterest, right?
Pinterest's goal of course is to serve its users in the best way possible. That means keeping their platform interesting, exciting, enjoyable, and inspiring so people keep coming back. 
If Pinterest users want fresh content, then that is what Pinterest will make sure they get. So Pinterest changed its algorithm so that it looks at recent pins first along with the relevance of the content it links to (via keywords relating to the pin text overlay, pin and board descriptions) – and a myriad of other variables that affect search rankings.
The algorithm change helps users find and engage with new content they have not seen in their feeds before. And that new content includes your content. The emphasis on fresh content is only going to grow with time as users respond more positively to new content. 
As Pinterest marketers, we can take steps to get more of our content found in search by creating and sharing fresh pins that link to it. In other words, we as Pinterest marketers need to keep giving Pinterest users new things that inspire.
This change does not necessarily mean you can no longer share your older content ever again. But it does mean there is much less emphasis on curating pins as part of your Pinterest strategy. You'll want to shift the majority of any time you spent curating (if you were curating) before creating fresh pins.
"Fresh Image" vs "Fresh Pin" vs "Fresh Content"
A fresh image = an image (stock or original) you've never used before on a pin
A Pinterest image is everything that's on a pin including the image (original or stock), logo, and text overlay.
So a "fresh pin" is the equivalent of a fresh image plus all other elements that make up the Pinterest image. If you change several of the pin elements around so that the pin looks totally different, it is considered a fresh pin.
Be careful here though. Pinterest's algorithm might "see" a slightly revised pin as a fresh pin but it might not. Take a step back and ask yourself if the pin is "different enough" to be seen as fresh or new.  Moving pixels slightly or changing angles just a bit, is not considered fresh. 
You also need to make sure you've incorporated a different spin or message on the pin via the description that leads to any older content. 
Fresh content – On Pinterest, "fresh content" means fresh pins or pins with totally new images (including logo, text, background pic). If the same pin image is kept and you only rewrite the description and add some hashtags it is not considered fresh.
The confusion over the term "fresh content" happens when marketers think about "fresh content" on a blog or website. This is not what Pinterest is talking about here. They are referring to pins. Fresh pins represent fresh content even if those fresh pins are linking to older content on a site or blog.
Saving To Relevant Boards
When you publish a totally new blog post and create pins for it, it used to be that we would save those pins to all relevant boards. This has changed. While it's okay to save to the most relevant boards, it is no longer ideal to save to all relevant boards. It would be most impactful to save unique images (pins) across just a small number of highly relevant boards. 
In the video above, Lucy from Pinterest explained that some Pinterest users are spending too much time on curating content and not enough time on the creation of new content and that's not ideal anymore. 
This makes us Pinterest marketers wonder, does this mean we really shouldn't save the same pin ever again? Well… it's tricky. There's a natural rate of duplication of pins – for example, pins that lead to relevant seasonal or even evergreen content. But Pinterest is really encouraging creating new pins as often as possible. 
Same URL Different Image 
When pinning a fresh pin with the same URL as a previous new pin, it is not considered a duplicate by Pinterest. You can still create multiple pins for a new blog or website content and save them to a few relevant different boards. 
For example, in your blog post you likely have a heading and subheadings that cover various topics related to the core point of your post. Make pins with different images, text overlays that correspond to subheadings (as long as it makes sense to do so), draft a unique description for each one and schedule the pins out to the most relevant boards (just a few!) using longer intervals. The advice on interval length varies widely Tailwind currently suggests 7 days but you do have a choice to pin closer together or further apart. 
Older Pins
Your older pins continue to have value (relevancy) as long as they are coming up in the search for keywords people are entering. But based on everything we've read, sharing them more than one or two additional times through the course of a year is about all you'll want to do under this "fresh pins" change. 
Taking this a step further, you'll probably be better off simply creating a new fresh pin instead of sharing previous pins. So while you "can" reshare older pins to other closely related boards, reduce the number of boards and the frequency from what you were doing before. To help you out with frequency, Tailwind recently raised the minimum interval time between pins that are based on the best practices guidance Pinterest has provided.
Affiliate Disclaimer: This post contains affiliate links where we earn a commission if you sign up through them. However this in no way affects our recommendation. We actually all use the products, services, and courses we recommend.
Tailwind's New Smart Guide
Tailwind works closely with Pinterest especially as Tailwind develops new tools to help Pinterest marketers do better on Pinterest. Tailwind rolled out a Smart Guide just about the same time Pinterest announced the "fresh pins" changes. Smart Guide gives you real-time tips, hints, and recommendations as to how to adjust what you're doing to fit with Pinterest's best practices.
In the Scheduling and Interval Pinning areas of Tailwind, Smart Guide looks for pinning patterns that might be deviating from best Pinterest's best practices. For example, if you are pinning too frequently, Smart Guide will give you a warning. If you are curating too much, the same thing – you'll get a warning. You won't have to guess anymore, Smart Guide will notify you. Once you see the "All Clear" notice in Smart Guide, you're good to go. 
Smart Guide has also been built into Smart Loop. We currently do not use the Smart Loop in our Pinterest marketing strategies so cannot speak to that but based on what we see in Tailwind's Publisher and Intervals with Smart Guide, it's likely to be super helpful when using Smart Loops too.
Smart Guide is included with Tailwind's Plus Plan so if you have that plan you already have a Smart Guide!. Every time you're scheduling your pins, using intervals or Smart Loops, be sure to check what Smart Guide recommends. It will help keep you from getting your account suspended or blocked by Pinterest.  
More Work
If creating all these fresh pins is starting to feel overwhelming to you, we totally understand. It is a big change and more work for those doing Pinterest marketing. Here are a few suggestions to help with making the transition…
1) Curate and repin / reshare less
2) Use that freed up time to create more of your own pins (diy)
3) Take advantage of Tailwinds monthly gift of Pinterest pin templates
4) Adjust your workflow to match changes you need to make
5) Pay close attention to Tailwinds new Smart Guide to help keep you in line with Pinterest's best practices
6) Try out Tailwind Create – a new module within the Tailwind App that automatically generates dozens of pins optimized for Pinterest (and several other of the most popular social media platforms)
Gone are the days when you had to create one design and then recreate it for each platform. And then go back and schedule them all! With Tailwind Create, you can automatically create dozens of "almost done" pins, edit them however you like right in the app and then schedule them straight from the create module. 
It's always a challenge when Pinterest makes changes that mean changing your Pinterest marketing strategies. And this change is a bigger change than it seems on the surface. The bottom line, it's time to start creating more new fresh pins than ever before. Creating more fresh content on your blog or website will help with this new fresh pins change.
Having to create fresh pins all the time can feel like more work, but with new AI apps coming out all the time, look for a graphic design one that can make pin creation faster – like Tailwind Create or Pin Generator.  
More fresh pins leads to driving more traffic, so it should be totally worth it!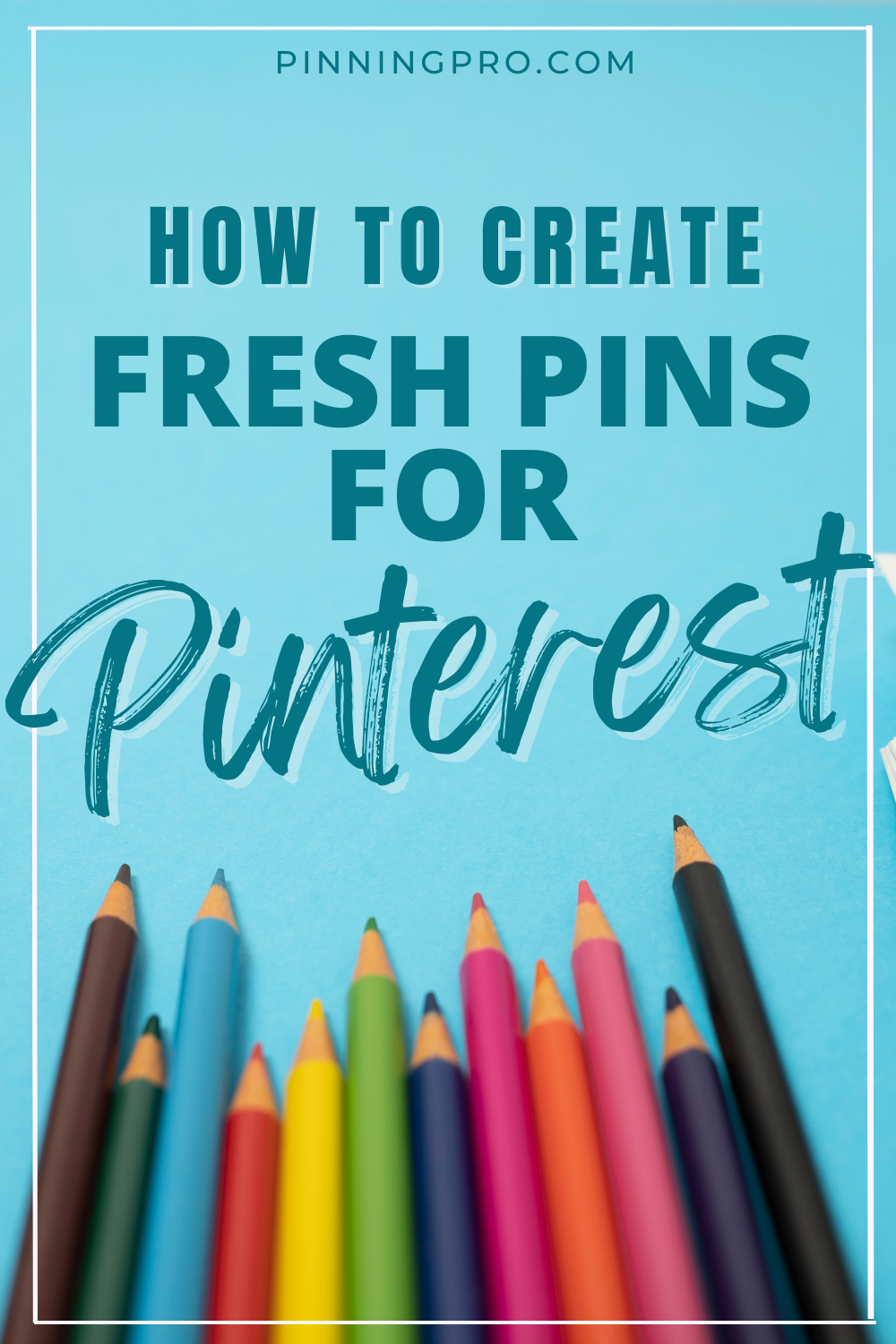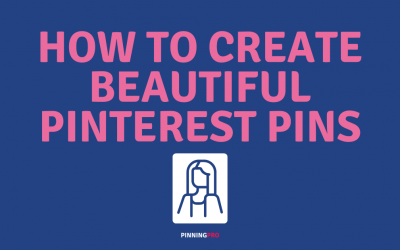 Pinterest is alllll about the pins. Every pin includes an image (or video), text overlay (not required but the majority of pins have one), a title, description and a link to your website, blog or online store.
Did you know you can use interest targeting on Pinterest for organic marketing purposes too?
When you think of Pinterest, it's alllll about the images. Learn about designing pins that get clicked.