Pinterest Pin Design Tips for the Perfect Pin
Want to create beautiful Pinterest pins? Pinterest is a visual platform where people go for inspiration, ideas, to discover something or just see what they might come across.
So Pinterest is alllll about the pins. Every pin includes an image (or video), text overlay (not required but the majority of pins have one), a title, description and a link to your website, blog or online store. And you definitely want to create beautiful Pinterest pins.
Types & Styles of Pins
Currently you can choose from several options:
Standard/static
Video
Product
Idea
Pinterest recommends creating more than one style of pins. Video and Idea pins take longer to make than standard and product pins, but we suggest making at least one of these per week, if at all possible.
Pin Size
Pinterest pins are mostly vertical. Pinterest recommends using a 2:3 aspect ratio, or 1000 x 1500 pixels (currently – this can change from time to time). The reason for the 2:3 ratio is that if your pins are larger than this, they may get cut off in people's feed.
Images to Create Beautiful Pinterest Pins
When choosing images for your pins, try to match what the content the pin will link to is about, with the image. For example, if your article is about hiking in Arizona, you might choose an image with mountains, people hiking and sunny blue skies to convey "hiking in AZ." If your pin will link to your products, use a photo of the actual product, preferably in a way that shows how it's used, worn or prepared.
Whatever images you choose, your goal is to catch people's attention in a fast moving feed so they click through to your content or product. Try to choose sharp looking, eye-catching images. If at all possible, use your own photos in your pins. It's also perfectly okay to use images from stock photo sites and pin design tools, but aim to find the most unique and beautiful ones.
Affiliate Disclaimer: This post contains affiliate links where we earn a commission if you sign up through them. However this in no way affects our recommendation. We actually all use the products, services, and courses we recommend.
Tools To Create Beautiful Pinterest Pins
There's a variety of tools available when you are learning how to create beautiful Pinterest pins. Some are free, others are subscription based. The tools we'll cover here are the most popular ones on the market today.
Pinterest – you can learn how to create beautiful Pinterest pins right in the Pinterest app using the mobile app or the desktop version. Look for the "Create" link in your Pinterest account (currently at the top but Pinterest likes to move things around so you might have to look). From here you can create a standard pin or an idea pin. Follow the prompts to upload your image, edit your design, add your title, description and the URL where you want the pin to go. Choose to pin to a board immediately or schedule it to publish later.
Canva – this is a free or paid online graphics design tool and is probably the most popularly used tool for social media image creation. The free version is pretty robust. Some Pinterest account managers never need to upgrade to the paid version. Canva's capabilities are nearly endless. For Pinterest pin creation, you can upload your own images or use images from its massive free and paid stock photo library. For design, choose from hundreds of pin templates (which speeds up design) create logos, choose fonts, add frames, icons and more. Edit to your heart's delight and then either schedule your pins right from Canva or manually upload them to Pinterest.
Tailwind – originally a scheduling app, Tailwind is now a comprehensive marketing tool with all kinds of capabilities. Tailwind has added Tailwind Create so you can create beautiful Pinterest pins right in the app. Here again, you upload your own images or choose from Tailwind's stock image library. What sets Tailwind Create apart from Canva is the speed with which it can create pins because it is AI (artificial intelligence) based. That means you can automatically create dozens if not hundreds of optimized pins with a few clicks. A word of caution though. Pinterest is known to penalize too much pinning of similar pins so there is some manual editing that needs to take place when creating multiple versions of pins. Add text overlay, title, description, url and schedule to boards all within Tailwind. It's like a one-stop-shop.
Pin Generator – new to the scene is Pin Generator which started out as a bare bones AI pin generating tool. Fast forward a few months and now it too is becoming a comprehensive Pinterest marketing tool. For pin design, you can generate hundreds of pins with images that are pulled from your website or blog or upload your own images. The generator also pulls titles and descriptions from your site or blog for quick tweaking making a time-consuming task super speedy. Choose from multiple templates, fonts and colors and tweak away. From there you can schedule your pins in its built-in smart scheduler (somewhat similar to Tailwind's).
Pin Design Tips To Create Beautiful Pinterest Pins
If you're brand new to designing pins, go to Pinterest first, search keywords in your niche, and see what others are doing with their pins.
Do you notice certain colors showing up again and again?
Is the overall aesthetic (look) bold and colorful or subdued and minimalist?
Are there any fonts you love? Fonts that don't work for you?
Look for pins that are easy to read quickly and have design features that catch your eye.
Make a note of what you do and do not like in a pin.
Keep things simple in the beginning. Choose a palette of three to five colors and two to three fonts. You may already have a brand kit to use as the basis for your design, which makes this step easier.
1. Coolors.co is a helpful resource for selecting colors that go well together. Opt for a trending palette or create your own. Not sure where to start? Look at an online color wheel and learn how colors work together or search "brand color inspiration" + your niche for ideas.
2. Picking out fonts can be tricky — what works for a birthday card may not work for a pin. Start with Canva's tutorial on lettering and choose a few you like. When we design pins, we typically use a bold, thicker font paired with an easy-to-read script font as emphasis. For our URL, we use a basic font like Ariel or Verdana so the web address is easy to read.
Test font sizes and letter spacing, too. A font may be difficult to read in a small size, but look great larger with a little space between letters.
3. When using photos, find images that have blank space so your text is clear and readable. If the image is busier, use colored shapes like squares and rectangles as a background to your text.
4. Start with pin templates, either free or paid. Templates are an excellent way to understand how pin design elements work together, while learning how to use your chosen design tool. Change the fonts, colors and images in the templates to make your pins unique and test your design elements together.
As you get more comfortable creating pins, don't be afraid to branch out with different font combinations, new colors, and graphic elements to accent your design. Avoid overthinking it. Your pins don't have to be Museum of Fine Art worthy to work well! Clean, legible text and complementary colors are a beautiful pin's best friend.
What To Use As Pin Text Overlays
The majority of pins have text on them. Exceptions might be pins by photographers or decorators who prefer not to cover up their images. Text Overlays are the first place you can add a keyword or two. Check out our keyword research tutorial to learn how to find the right search terms. Use the space well to help your pin be found for what your content is about. Keep your pin text short because pins scroll by in feeds very quickly. If there's too much text people will scroll right on by.
Try to make your text overlays compelling, actionable, intriguing
Include numbers – i.e., if your content has a numerical list like "10 Tips… "
Use easily readable fonts – avoid scripty fonts
Emphasize a word or two with different colors and font sizes but avoid using more than 2 font types
Use arrows, video icons and other images to emphasize the text
As an example, "Hiking in Arizona" is the keyword AND the text overlay.
How To Name The Pin File For Each Pin
What you name your pins when saving them is another opportunity to tell the Pinterest algorithm what your content is about. Without getting too long, use the most important descriptive words taken from the pin text overlay or description when naming them. Also try to stay consistent either by using dashes between words in the file name, numbering them or however it makes the most sense for you to name them.
Referring to the hiking in Arizona example above, you would name your pin hiking-in-arizona.png or hikinginarizona.png.
Tips To Create Beautiful Pinterest Pins Fast
Stay organized by using folders
Wrapping Up How To Create Beautiful Pinterest Pins
Since Pinterest is a visual platform creating beautiful pins is paramount to your success. It takes time to learn what works and what doesn't (your analytics will inform you on this). Be patient, experiment, test different styles, take a course if needed but keep going. Soon you'll be creating beautiful Pinterest pins that convert to click throughs to your website, blog and products. And that means more traffic and sales for your business.
The more saves your pins get the more they will be served up to other audiences looking for related information on Pinterest.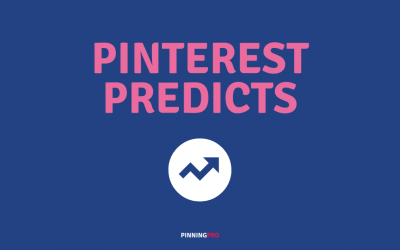 Pinterest Predicts research is based on in-depth search data and extensive analysis of user behavior and engagement. See what they're saying about 2023.
Did you know you can use interest targeting on Pinterest for organic marketing purposes too?