Pinterest Marketing Ideas for the Holidays
These Christmas Pinterest marketing tips are meant to help you reach more people on Pinterest who are looking for your information, products and services during the busy Christmas Season. Discover seasonal trends, popular keywords, festive sayings and other ideas to use in your Christmas marketing strategies and tactics.
Christmas Trends
Trends are helpful to look for when planning your marketing on Pinterest during the Christmas Season. Use the Pinterest Trends Tool to discover what keywords are trending up this year as well as what typically trends every year. Sort by location, dates, age demographics and interests.
Check the Trends Tool when you first start planning your Christmas Pinterest marketing but also check it again in early December. You'll notice that some trends start very early (i.e., diy crafts) and others not until after the U.S. Thanksgiving (i.e., dinner ideas). 
Tip: The seasonal trends search filter is very helpful for identifying new and traditional Christmas trends.
Below are several trends related to Christmas showing in late November. Doing the same searches in early December will bring back some additional or different trends.
Christmas + (put Christmas before each of the keywords below)
decor ideas

tree ideas

aesthetics

crafts

gift ideas

outdoor Christmas decorations

wreaths

elf on the shelf ideas

tree

cookies

tree decorations

list ideas

porch door

wishlist

baking

fireplace decor

dinner ideas

mantel decorating ideas

diy Christmas ornaments
Christmas Phrases & Sayings
Every major holiday and celebration comes with common phrases and sayings. "Merry Christmas" and "Happy Holidays" are still very popular. Many of these sayings and phrases come from Christmas carols and popular songs. Here are a few more you'll hear at this time of year:
Season's Greetings

Keep calm and jingle all the way

Peace on earth

It's the most wonderful time of the year

Have yourself a merry little Christmas

Santa Claus is coming to town

Christmas is in the air

Home for the holidays
Christmas Quotes
Consider incorporating Christmas quotes into your Christmas Pinterest marketing plan. Below are a few popular quotes about Christmas, gift giving and family. Search for other quotes that will work well with your niche and will resonate with your audience. 
The best way to spread Christmas cheer is singing loud for all to hear. – Will Ferrell
At Christmas, all roads lead home. – Marjorie Holmes
Christmas is not as much about opening our presents as opening our hearts. – Janice Maeditere
Christmas gives us the opportunity to pause and reflect on the important things around us. – David Cameron
Christmas is doing a little something extra for someone. – Charles M. Schulz
I will honor Christmas in my heart, and try to keep it all the year. – Charles Dickens
Peace on earth will come to stay, when we live Christmas every day. – Helen Steiner Rice
Christmas Words
Below is a list of some of the most commonly heard Christmassy words:  
Peace

Hope

Joy

Merry

Believe

Santa

Holly

Winter

Jesus

Manger

Snow
And if you need more, here is a very long list of words associated with Christmas that include its history, common traditions, symbols, meanings, and terms with examples and pictures.
Christmas Traditions
There are many common Christmas traditions and also cultural and locational ones. Focus on the traditions that connect with what your business is about when making your Christmas pins. Here are a few traditions to get you starting thinking:
Watch a tree lighting ceremony

Cut down a fresh tree

Decorate your tree

Listen to and sing Christmas songs

Attend a church service

Bake cookies

Give gifts/presents

Send Christmas cards

Host an open house or party
Fun Christmas Plans
The Christmas season is a time for faith, family, friends and fun. Many families make a list of some of their favorite things they like to do during December each year as they countdown the days to Christmas Eve and Christmas Day. Below are some ideas to get you thinking about incorporating some into your Pinterest marketing plan:
Watch a Christmas movie as a family

Go to a holiday craft / artisan market

Donate to a food pantry or homeless shelter

Go see a Christmas play or concert

Make an Advent calendar and open it daily

Go ice skating or sledding

Decorate a gingerbread house

Go on a sleigh ride

Start a new tradition
Now that you have a nice starter list of Christmas Pinterest marketing tips, trends, phrases, sayings, quotes, words, traditions and plans, you're well equipped with keywords and festive imagery for your pins during the Christmas holidays. Even if your niche doesn't seem to lend itself well to a Christmas focus, try using popular Christmas colors and elements in your pins to catch people's attention. 
Start using these Christmas Pinterest marketing tips in late October each year. Pull keywords from the above and use them on your pin text overlays, pin titles, pin descriptions, board descriptions and of course in the content your pins will link to. 
Affiliate Disclaimer: This post contains affiliate links where we earn a commission if you sign up through them. However this in no way affects our recommendation. We actually all use the products, services, and courses we recommend.
Bonus Tips!
Incorporate some of these Christmas Pinterest Marketing Tips with our 20 Free Pin Templates and create some fun and festive holiday pins this season! 
Learn more about Tailwind's New AI Pin Description Writing Tool  A great way to speed up drafting your descriptions this Christmas. 
The more saves your pins get the more they will be served up to other audiences looking for related information on Pinterest.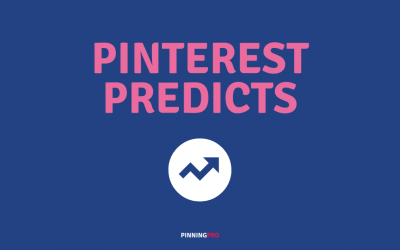 Pinterest Predicts research is based on in-depth search data and extensive analysis of user behavior and engagement. See what they're saying about 2023.
Use these practical, time saving tips for Pinterest marketers to help manage your account efficiently and effectively to grow your business.