How to Target Interests on Pinterest
Interest targeting on Pinterest is typically thought of in terms of advertising to help get ads shown to people who have previously been identified as being interested in a particular topic, product, idea, etc. You can combine the different targeting criteria (i.e., demographics with interests) for your ads in order to create an audience as broad or narrow as you want.
But did you know you can use interest targeting on Pinterest for organic marketing purposes too? More on that shortly.
Although this post is not about Pinterest ads per se, we'll first need to take a look at the interests available in the ads section of a Pinterest business account before we delve into organic interest targeting. Follow the steps below to find them – and don't worry doing this will not inadvertently set up an ads campaign!
–> Login
–> Click Ads at the top
–> Click Create campaign
–> Choose Manual Campaign, then Get Started, if you have a choice between Automated Campaign or Manual Campaign. If you do not have that option, move ahead to the next step.
–> Click New ad group
–> Click Targeting
–> Choose Find new customers
–> Choose Interests and Keywords and check Enable
From there you'll see a list of Parent Interests.
Check one (or more) to see the sub-interests or "crumbs" (>) that fall under that category.
Click one of the crumbs to see the expanded crumbs and keep doing this until there are no more crumbs.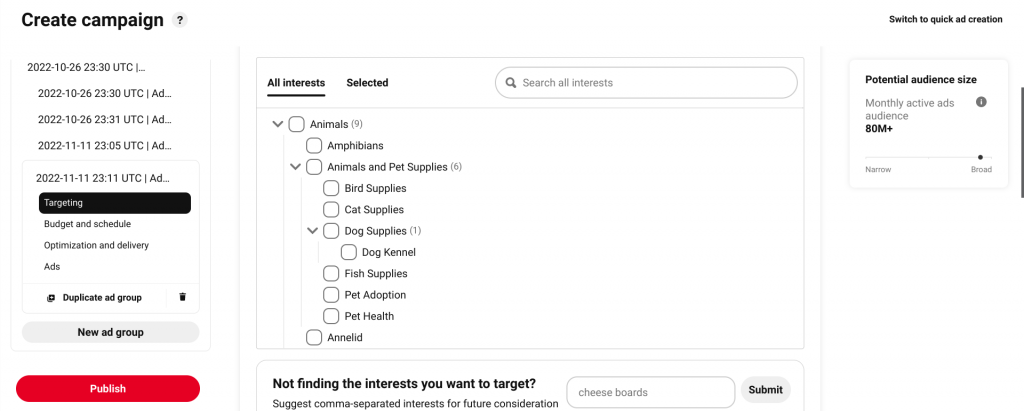 Depending on what the parent interest category is, you could potentially see dozens of very specific interests to choose from. This helps you really laser target your ads to an audience that's more likely to be interested in your business.
Note: You can also search for specific interests using the Search bar.
The idea here is to help you see the types of interests you can choose from for ads. There are tons of them!
Here's where things start to get very interesting (no pun intended!)
Bulk Ads
Pinterest allows marketers to add interest targeting in bulk.
Pinterest provides a parent interests spreadsheet (there's also a link to it in your bulk ads section) with their interest IDs and thousands of parent interest names and "crumbs". Examples:
Art > Drawing > People Drawing > Stick Figure Drawing
Women's Fashion > Women's Style > Seasonal Fashion > Women's Autumn Outfit
Circling back to using interest targeting on Pinterest for organic marketing, doing so was not even heard of until very recently. And as far as we know only one Pinterest expert teaches interest targeting for driving organic traffic to your site or blog. And the funny thing is we literally stumbled on it in a Pinterest marketing course our team went through which is about scheduling pins! NOT how to get pins categorized correctly by the Pinterest algorithm.
We suspect that this expert was so excited about her discovery she just added these in depth tutorials to her scheduling course as sort of bonus material. Turns out, it's the most valuable part of her course.
Interests and How They Function in the Algorithm
Interests are used to categorize both Pinterest users and the content they create. Then they're used for recommendations and interest based ad targeting.
If you manage your own Pinterest business account or manage others as a Pinterest manager or virtual assistant, you'll definitely want to learn about interest targeting on Pinterest. Afterall, you want your organic pins to get in front of users who are actually interested in your content. Remember, using interest targeting is beneficial to both ad pins and organic pins.
Interests are used in the algorithm for pins, boards and search queries. When you understand how Pinterest categorizes things, your goal will be to "teach" the algorithm what parent interests your pins (or the pins of your clients) belong to so they get increased distribution. Better distribution equates to ranking higher in search. And we all want that.
First we need to learn how to identify the parent interests our pins are being assigned to. This is basically the way the algorithm organizes pins into different categories. But – since the algorithm is not human – it often gets the category wrong. When this happens, our pins won't be found for the very searches we want them to be found for. It's up to us to "teach" the algorithm the correct category.
Pinterest uses a knowledge graph management system to understand the content (pins) that is being published and saved to its platform. In addition to parent interests there are taxonomies (for organizing) and topic nodes (keywords related to the pin) involved. A lot of this information is found in the html code and is completely accessible to the public. But… few people know about it, even many experienced Pinterest managers and virtual assistants. In our opinion, this knowledge is absolute gold!
Once you learn organic interest targeting on Pinterest, you'll be equipped to make it obvious to the algorithm which parent interest your pins (or the pins on accounts you manage) belong to. No more mis-categorizing of your pins by the algorithm.
Affiliate Disclaimer: This post contains affiliate links where we earn a commission if you sign up through them. However this in no way affects our recommendation. We actually all use the products, services, and courses we recommend.
Where To Learn More About Organic Interest Targeting on Pinterest
To learn how to do interest targeting on Pinterest for organic pins, get Scheduling Shortcuts. Again, this is not just a "how to schedule pins" course. It's more like a comprehensive "how to market on Pinterest like no one else" course.
If you want to learn how to get in front of users who are actually interested in your content and offers, you need to learn interest targeting.
Scheduling Shortcuts also teaches how to optimize an existing /mature account that isn't performing as well by optimizing it for interest targeting.
The following are some of the other topics included in Scheduling Shortcuts:
Understand the Pinterest algorithm
Algorithm updates
Pinterest rules and FAQs
2 unique Pinning strategies
Pinterest planner
Time saving hacks
Manual pinning
Scheduling pins
Tailwind tutorials
Saving 3rd party pins
Scheduling workflow
GA 4
Interest targeting
Existing account optimization
Idea pins
Product tagging
Group boards
As you can tell, this course covers waaaay more than pin scheduling shortcuts! And the organic interest targeting info she teaches is not found anywhere else online. Try Googling to find it!
Wrapping Up | Interest Targeting on Pinterest
Organic marketing on Pinterest is much different than on other platforms in the "social media" category. That's because it's more of a search platform than social. People search by keywords, discover in their feeds and categorize pins by putting them on themed boards. Because of the high usage of categorizing by both Pinterest and its users, knowing how to take advantage of interest targeting for your organic pins is super important.
The more saves your pins get the more they will be served up to other audiences looking for related information on Pinterest.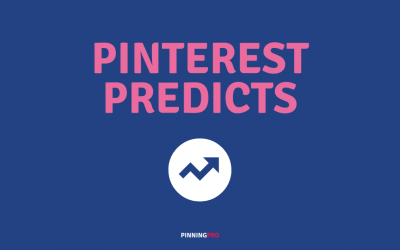 Pinterest Predicts research is based on in-depth search data and extensive analysis of user behavior and engagement. See what they're saying about 2023.
Use these practical, time saving tips for Pinterest marketers to help manage your account efficiently and effectively to grow your business.