How to Increase Pinterest Saves
Get more Saves on Pinterest with these 6 helpful tips. But first, let's talk about the why. Saves happen when people click on one of your pins and then repin it to one of their boards to (hopefully) come back to later. It means the content your pin is about could potentially have the inspiration, answer or solution they are looking for – or be about something they want to try or buy. 
The more saves your pins get the more they will be served up to other audiences looking for related information on Pinterest. 
Pinterest has recently come right out and said that "Saves are your best bet for tracking your success" so it follows then that they are also important to the Pinterest algorithm. 
Create High Value, Helpful, Inspirational Content
The most important thing needed in order to get more saves on Pinterest is providing your audience with inspiring, valuable information and ideas and solutions to challenges. If your content inspires people to try something, provides a solution to a problem, or shows a product they've been looking for, they're more likely to save (or click through) your pin. So start by only putting out your best content and link it to beautiful pins as one way to attract more saves.
Ask Your Audience To Save Your Pins
Invite your audience to save your pins. The more direction you can give people the more they'll tend to follow. People are busy and Pinterest feeds move fast. There's nothing wrong with straight up asking for the save.
Make the suggestion right on your blog post or page by simply adding "save this pin" or "pin for later" beneath your embedded pin. You're essentially adding a "Call To Action." You can also add the CTA to pin text overlays, but we recommend doing that sparingly. 
Ask folks to "save for later" at the end of your pin descriptions. 
Take things another step further by suggesting the type of board they should save your pin to. For example, let's say you have a pin about organizing a pantry. Suggest something like "pin this to your kitchen organizing board."
If the pin is about something people usually plan for, like a wedding, at the end of your description, you could say "Pin this to your wedding reception board. That way you'll know right where to find it when you need it."
Create New (Fresh) Pins For Existing Content
Instead of repinning the same pin multiple times, create fresh pins for the same piece of content. Use different images, text overlays and other elements on the pin that could appeal to a wider audience. More pins means more opportunities to get more saves on Pinterest. But be careful about pinning pins to the same content too close together. Space them out a week or two apart.
Affiliate Disclaimer: This post contains affiliate links where we earn a commission if you sign up through them. However this in no way affects our recommendation. We actually all use the products, services, and courses we recommend.
Test Out Using Tailwind Create For Making New Pins
In 2021 Tailwind did their own test with pins created by their graphic designers vs pins created in Tailwind Create. Here's what the results were: 
For Pins saved via Tailwind in January 2021, making and sharing Pins with Tailwind Create resulted in 373% more saves than did resharing existing content.
https://www.tailwindapp.com/blog/how-to-increase-pinterest-engagement-in-2021-original-data-study
A few observations:
This study was conducted shortly after the launch of Tailwind Create. Not sure if that impacted the results. Hard to say. 

Other competing products have launched since, which could influence these results today. 
The point is, if pins created using Tailwind Create got that many more saves than their regularly designed pins, the same (or similar) could still hold true today. The only way for you to know is to test for your own account. It's worth a try to get more saves on Pinterest! 
Get More Saves On Pinterest By SEOing Your Pin Descriptions
Another way to get your pins showing up more in Pinterest's search – and therefore having more opportunity to be saved – is by SEOing your pin descriptions. SEO (Search Engine Optimization) on Pinterest simply means writing your descriptions with keywords people are actually using to search for things. and writing them in a way that resonates and encourages them to click through or save for later. 
Diversify Your Pin Types
The primary types of pins you can create are static, video, product or idea pins. Having a mix of these different options will give you a strong indicator of what type of pins your audience likes best. You'll find this information in your analytics. 
Study Your Analytics To Discover Additional Ways To Get More Saves On Pinterest
Look at your Pinterest analytics to see what content people seem to be saving the most and plan to create more content about those topics. Read our full tutorial on how to use your analytics and in this case, pay special attention to your "Saves" metrics. 
Wrapping Up
Get more saves on Pinterest starts by creating high value, helpful, inspirational content. It's totally fine to ask pinners to save your pins. Create new pins for existing content rather than constantly repinning original pins. This gives more opportunities for new saves.
Test out creating pins using different graphic design tools including Pinterest's Pin Builder or Tailwind Create. SEO your description to increase exposure. Diversify your pin styles and, last but not least, look at your analytics to see what pins people are saving and take action on what you learn.
Next → Learn how to use Interest Targeting for organic marketing on Pinterest?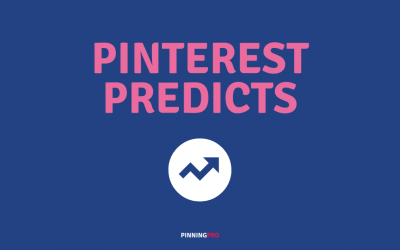 Pinterest Predicts research is based on in-depth search data and extensive analysis of user behavior and engagement. See what they're saying about 2023.
Use these practical, time saving tips for Pinterest marketers to help manage your account efficiently and effectively to grow your business.
Discover seasonal trends, popular keywords, festive sayings and other ideas to use in your Christmas marketing strategies and tactics.