How to Drive Traffic With Pinterest 
Wondering how to drive traffic with Pinterest after so many recent algorithm changes? Pinterest is an excellent traffic generating platform but you have to know what you are doing and it's important to stay current. Bloggers and small business owners who are using Pinterest correctly adjusting to the "state of Pinterest today," are finding that it's now the #2 or #3 referrer of their traffic after Google. There's an important reason for that. First and foremost, Pinterest may be frequently referred to as social media but there's not much opportunity to "socialize" here.
That's because it's actually a search and discovery platform
. What this means is, strategies for marketing on all the currently popular social media platforms will not work on Pinterest. Instead, keyword research and SEO strategies will help you increase traffic from Pinterest (over time). It takes time to build momentum, similar to trying to rank on Google.
Drive Traffic With Pinterest Using A Data-Driven Strategy
To market your blog, website or small business on Pinterest, you'll be focusing a lot on images and keywords for SEO purposes. Create beautiful, eye-catching images that communicate ideas, inspire, help, inform or teach. Then conduct keyword research to determine how people are searching for what you're offering. Weave those keywords into the pins, descriptions and boards for the best chance for your pins to rank when people search. That's high-level. Let's get into the weeds now. Note: This article assumes you have a Pinterest business account set up and you are either unsure what to do next or are struggling with how to drive traffic with Pinterest after seeing a traffic drop from the platform.
Affiliate Disclaimer: This post may contain affiliate links where we earn a commission if you sign up through them. However this in no way affects our recommendation. We actually all use the products, services, and courses we recommend.
Keyword Research
The first thing to do is some
keyword research
. Ask yourself what keywords people would likely enter in the Pinterest search bar to find your pins, boards or videos? Make a short list and then actually search each keyword on Pinterest. For example, enter
hiking
and you'll see secondary keywords like hiking outfit, hiking aesthetic, hiking boots, etc.
Write down the keywords the search suggests following the keywords you enter. If you aren't finding anything for a keyword, it's not being searched for on
Pinterest
. Or perhaps people are using other keywords to find what they are looking for. Keywords that bring back a long list of suggested secondary keywords are the ones you'll want to use in your Pinterest profile, on your pin images (as text overlays) and in your pin and board descriptions.
Set Up Your Boards
Based on your keyword research, decide on 5-6 themed boards to set up. Click on the + and choose "Create Board." Name your first board using your most important keyword or keyphrase. Write out a description about 2-3 sentences long that includes the keywords relevant to that board. Write naturally and avoid keyword stuffing. Always keep things real. When you go to create the board, Pinterest will present related pins for you to save to the board. Skip this step and click create. Once you've set up your initial boards, it's time to create some scroll-stopping, keyword focused pins.
Create Your Pins
How many pins you'll create will depend on a number of factors including:
How much content you already have
How often you'll be creating new content
Whether you have a store or shop
If you're selling your own products
If you're doing affiliate marketing
And several other factors
Keeping the boards you already created in mind, start by identifying which blog post or web page you'll want the pin to link to. Decide what the pin should say and include 1-2 keywords in the text overlay. The pin could actually be the same or similar to the title of the piece of content you'll be linking it to. Make it catchy if you can. For example, "Comfortable hiking boots for beginner hikers." This text overlay uses the keywords hiking, hiker, hiking boots, beginner – all of which are being searched for on Pinterest. Because there are a few keywords, the final pin can potentially be saved to multiple boards. But more on that in a bit. Now you'll want to find an image that conveys what the text says. Perhaps you'll choose one with a person wearing hiking boots out on a beautiful mountain. Design the pin using Pinterest's pin design tool, using
Canva
or another graphic design tool. Next, draft a 1-2 sentence description for the pin, again incorporating the keywords you identified during your research. Expand on the text overlay and write a few sentences telling more about what content they'll be taken to, should they choose to click on your pin in the search results. The pin design text should closely reflect the content of your post or page and pique the interest of your readers. Remember, nobody will see your pin if you aren't writing pin descriptions that are optimized with the right keywords your audience is using. So don't skip the description writing step!
Save Your New Pins To Your Boards
There are a few ways to save your newly designed pins to your boards:
Manually on Pinterest
Through a scheduling tool like Tailwind
Directly from your blog post or website pages
Start with your first pin and save it to the most closely related board. Repeat with the rest of the pins.
If you're using the Tailwind scheduler, schedule the first pin to go out to the most important boards first. Use intervals to save the same pin to different boards (as long as they are also highly related) at (at least) one week intervals. Repeat with the rest of your pins.
Make Sure Your Site or Blog is Pin Friendly
Add a "Pin It" browser button to your blog posts and new website pages to make it easy for your readers to save your awesome content to their own Pinterest boards. People who follow them may see and save your pins too. Now there's another opportunity for them to come back to their boards later, click on your pins to return to your content and possibly even make a purchase.
Make Sure Your Blog or Site is Mobile Friendly
Over 80% of Pinterest users use the mobile app. Because of this, it's essential to have a mobile friendly, optimized site / blog. Otherwise, the traffic you're driving from Pinterest may click away quickly instead of sticking around and reading several of your pages and posts and possibly even buying something you're selling.
Stay Consistent and Create Fresh Pins Regularly
The more pins you create, the more traffic you'll drive to your website. But it's not just about quantity anymore (those days are long gone). Quality is important now too. This means creating beautiful eye-catching images and having researched keywords incorporated into your pin text overlays and descriptions. To keep people engaged, continue to create fresh and original pins regularly. This helps ensure that your content is seen as valuable and relevant by both Pinterest users and the Pinterest algorithm.
How To Drive Traffic With Pinterest – Wrap Up
The most important factor (yet also the most frustrating) for most bloggers and small business owners is that Pinterest takes quite a while before you start seeing traffic. Because it's a search and discovery platform, it takes some time for the algorithm to understand your account, your content and who needs to see it. That said, Pinterest is so worth the time investment as it is one of the best organic platforms to grow your traffic, especially for businesses that create great content on a regular basis. These monthly tasks to grow your Pinterest account will help you gain that much needed momentum.
Interested in deepening your understanding about how to drive traffic with Pinterest? We recommend Create and Go's Pinterest Traffic Avalanche course. It's reviewed for updates quarterly and when important changes happen on Pinterest.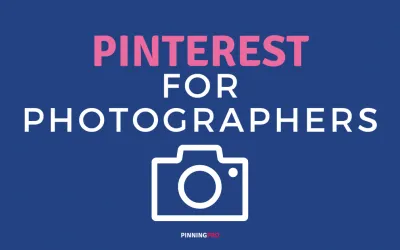 If you have a photography business, Pinterest can be a game changer. Learn strategies to take your business up a notch.
Learn how to understand Pinterest analytics, set filters and review the most important data for informing any changes needed in your Pinterest marketing strategy.
Consistently do these 7 monthly tasks to grow your Pinterest account, drive more traffic to your website or blog and increase your email list.