Pinterest Pin Design Made Easy
Learn how to design Pinterest pins that convert clicks from people's feeds to your website or blog using a little art and a little science. On the "art" side of things, it's super important to choose the right images, fonts and colors. On the "science" side, it's critical to do your keyword research, write catchy text overlays, draft keyword optimized descriptions and do some simple testing. Let's get to it.
Affiliate Disclaimer: This post contains affiliate links where we earn a commission if you sign up through them. However this in no way affects our recommendation. We actually all use the products, services, and courses we recommend.
Use Attractive Images That Grab Attention
When you think of Pinterest, it's alllll about the images. Static pins, video pins, product pins, idea pins. Almost everything on the platform is image based. But in order to bring user's feeds to a screeching halt, your pins need to really grab their attention. Do this by creating well thought out pins.
If at all possible use your own images. Unique images win, hands down. That said, the majority of bloggers / business owners don't have their own images. And that's okay. You can still win on Pinterest by being thoughtful about the images you choose – whether from paid or free stock image sites. Paid stock images are better than free images, but if you dig deep and edit free stock images you can still design Pinterest pins that convert.
Paid Stock Photos Sites
Canva Pro
123rf
Deposit Photos
Free Stock Photos Sites
Write Catchy Text Overlays
Your pin's text overlay should be clear, concise and to the point. It should also be catchy so that it will entice people to click through to your site. Think of a text overlay as your 2 second sales pitch.
Make your pin text overlays readable by using large, easy-to-read fonts. Avoid scripty and cutesy fonts as they make text harder to read (by both people and Pinterest's algorithm) especially on a fast moving pin feed. If someone can't read the text on a pin and they aren't sure what the pin is about within a second or two, they'll just keep right on scrolling
Use Your Brand Colors (But It's Okay To Add Others)
Start by using your brand colors in your pins. And of course you'll want to add your business logo and possibly your site or blog URL as part of your branding. However, if your brand colors don't seem to be getting you the results you want from Pinterest, it's okay to test out different color combinations and see how they perform. Just be sure to include your logo and blog or site URL as usual.
There are times of the year when using non-branded colors can be effective in pin designs. During the Christmas season for example you'll often see red and green colors on all kinds of non-Christmas-related pins.
During the Spring and Summer seasons, pins tend to look lighter and more airy in the feed whereas in Autumn, you'll see more vibrant Fall-ish colors. When you notice these trends, test out a few seasonal-specific colors on your pins and see if it's effective.
Did you know that colors are a ranking factor in the Pinterest algorithm? Visual appeal is very important and color is a huge factor in the algorithm's ability to retrieve visually similar results. For example if you've ever searched the platform for anything in the graphic design niche, you'll notice how the algorithm will retrieve similar designs and colors (i.e., soft neutrals). Color matters a lot on Pinterest and you'll want to be targeting it – at least in some of your pins. Learn more about ranking colors in Pinterest Rank Boost.
Simplify Your Pin Design
Because Pinterest is such a fast-moving platform, simpler designs are often the most effective. A clean, non-cluttered pin design communicates your message more quickly. Avoid using too many stickers, frames, arrows or other graphics all on one pin. Think: beautiful image, concise text, great keywords. When in doubt, less is more if you want to design Pinterest pins that convert.
Test Different Pin Versions
Once you have an established Pinterest account with lots of pins and boards, study your Pinterest analytics to see what pins are doing well. For any pins that haven't done well, consider creating a new version of them using different color combos, fonts, styles and images. Keep the text overlay the same and the description similar (change it up so it's not exactly the same), then check your analytics again in 2-4 weeks to see if your new pin is performing better than the original.
If a new version of a pin is performing better, try to determine why. You'll start to recognize that your audience tends to prefer certain images, colors, fonts, and keywords. This is great information to use when creating new pins.
Your goal is to understand how to design Pinterest pins that convert. Sometimes that means making pins with elements you may not have considered before you started studying your pin analytics. The pin design versions that get the most outbound clicks and saves are the ones you want to leverage by creating similar styles going forward.
Learn How To Design Pinterest Pins Using Canva
If you're looking for an easy and free (or affordable with a paid plan) way to design Pinterest pins that convert, we highly recommend using Canva. Canva is an amazing graphic design tool that makes creating beautiful pins super easy. There's a free version that is perfect for solo business owners / bloggers with startup budgets. And there's an inexpensive paid version that includes a branding kit, premium images, video graphics, a magic resize tool (turns one image into several with different sized for different social media platforms), folders, storage and more.
Now, return to the top of this post and start designing Pinterest pins that convert!
The more saves your pins get the more they will be served up to other audiences looking for related information on Pinterest.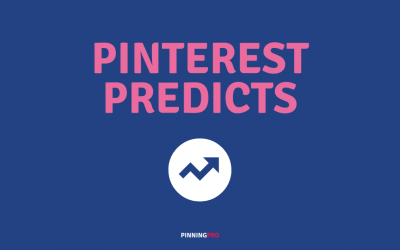 Pinterest Predicts research is based on in-depth search data and extensive analysis of user behavior and engagement. See what they're saying about 2023.
Use these practical, time saving tips for Pinterest marketers to help manage your account efficiently and effectively to grow your business.