The Ultimate List to Pinterest Tools, Services & Products
This handy Pinterest resources list includes all of the educational assets we use at Pinning Pro. Plus we've added a few we reviewed extensively and also recommend. Whether you are just starting to learn Pinterest marketing or you are advanced in your Pinterest marketing skills, there is always more to learn about this powerful but ever-changing platform.
The Pinterest resources list includes education for…
Pinterest managers
Virtual assistants
Employees who manage Pinterest accounts
Bloggers
Solo business owners (who wear all the hats)
And anyone needing to learn more about driving traffic and leads using Pinterest.
Affiliate Disclaimer: This post contains affiliate links where we earn a commission if you sign up through them. However this in no way affects our recommendation. We actually all use the products, services, and courses we recommend.
Pinterest Resources List
Pinterest Marketing Courses
Pinterest Traffic Avalanche – Updated regularly, this in-depth step-by-step traffic building course is highly recommended.
Pinterest SEO Traffic Secrets – An intermediate level Pinterest course perfect for bloggers, service sellers, ecommerce store owners, online entrepreneurs.
Pinterest SEO Traffic Secrets Plus Coaching – This is the same course as above plus a Pinterest account audit and 1:1 coaching.
Pinterest Like a Boss – Scale your business using Pinterest with this beginner to intermediate course.
Learn Pinterest Advertising
Simple Pin Ads Society – Learn, test and scale Pinterest Ads through an active community of like-minded business owners.
Pinterest Scheduling
Pinterest Scheduling Shortcuts – A course that teaches "The Pinning Smarter" method, a new pinning technique based on data (like HTML code & algorithm changes).
Tailwind Pin Design & Scheduling App – Helpful app that automates the most time consuming parts of your Pinterest marketing so you can grow smarter and faster.
Learning Communities for Pinterest Marketers
Pinterest Strategy Group * for students of Scheduling Shortcuts – (see above)
Pin Templates
10 Canva Pin Templates – 10 custom, modifiable Canva pin templates that help speed up designing eye-catching pins.
Quick Pins Template Bundle – 50 custom, modifiable Canva pin templates and design hacks that help with efficiency and speed when designing fresh pins.
Pinterest Managers and Pinterest Virtual Assistants
Learn How To Become A Pinterest Manager – go from business start-up to understanding how to attract clients, manage their Pinterest accounts, and scale your business by hiring staff and leveraging your best skills.
Become a Pinterest VA Today – Complete business in a box type program that teaches how to become a Pinterest VA. Includes tools, steps, technology, resources and workbooks to become a successful  PVA.
Pinterest Pin Tracker Spreadsheet – Multi-tabbed Pinterest tasks oganizing spreadsheet. Track your pins, organize keywords, text overlays, descriptions, what pins were saved to which boards and when. Also track your Pinterest account growth and add other sheets to customize for your business.
Pinterest Management Contract Templates – Learn how to properly craft a contract for your Pinterest management services that is easy to read and will protect yourself and your clients.
Hire an experienced Pinterest manager who has completed at least one comprehensive Pinterest marketing and management course and currently manages business accounts using current best practices. Review each profile and get free quotes from multiple Pinterest managers at once.
Pinterest Keyword Research
Pin Inspector App – This powerful keyword research tool quickly identifies top trending searches, top converting content and best performing ads directly on Pinterest.
Keyword Planning Guide – A beginners guide to finding, using and understanding keywords on Pinterest, this guide includes a step-by-step approach for applying keywords to your Pinterest strategy.
Other Helpful Pinterest Resources
Pin Description Prompts Swipe File – Learn to write high quality, keyword-rich pin descriptions quickly. Includes 38 different, easy to use prompts that work for every niche.
Milo Tree Grow Pinterest Followers App – This app converts your website or blog visitors to email subscribers and Pinterest followers automatically with customizeable popups that are Google and mobile-friendly.
New To Pinterest Resources
Pinterest Marketing Quiz  – Determine which Pinterest marketing resources you need by anwering just a few quick questions with this quiz.
Pinterest Building Basics –  This free 4-part tutorial on setting up your Pinterest marketing strategy helps you drive more traffic, email subscribers and sales.
Pinterest Resource List Wrap-up
We hope you found this Pinterest Resources List helpful in guiding you to the right tools, services and products for becoming a more successful Pinterest user. Be sure to visit our Pinterest marketing education blog where we regularly publish the most up to date information on leveraging the platform to benefit your business.
If you have any questions about a product, tool or service on this Pinterest resources list, please reach out and ask via our contact form.
Pin this page for easy reference!
The more saves your pins get the more they will be served up to other audiences looking for related information on Pinterest.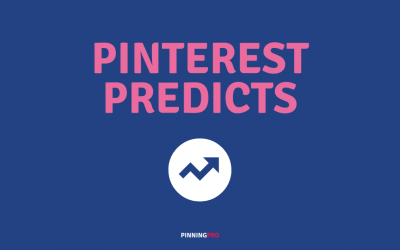 Pinterest Predicts research is based on in-depth search data and extensive analysis of user behavior and engagement. See what they're saying about 2023.
Use these practical, time saving tips for Pinterest marketers to help manage your account efficiently and effectively to grow your business.