How to Get The Most Out of Pinterest Analytics
If you've been using Pinterest for a while and haven't made it a habit to review your analytics/metrics, it's time to start. The only way to know what strategies are working (or what isn't working) is to study the numbers!
Now, if you don't exactly love analyzing numbers and stats, you'll be happy to know a few things…
1) Pinterest's own metrics are really straight forward! Basically, you'll see…
impressions
engagements
pin clicks
outbound clicks
saves
and a few others helpful insights
2) If you're using Tailwind for your Pinterest marketing, you have additional (and super helpful) metrics too.
.
Weekly profile performance including…
Followers

Pins

Repins

Comments

Virality Score

Engagement Score

Engagement Rate
Tailwind's Board Insights are also very useful for evaluating your Pinterest strategies. You can look at how your Boards and any Group Boards you are in are doing to decide which you should pin more to.
The Pin Inspector is arguably the best part of Tailwind's insights. It shows metrics for everything you've ever pinned! The only metric missing from the Pin Inspector that would be really helpful to have are click-through rates. You won't be able to tell which pins are driving traffic to where you are sending your pins, only what pins have been repinned. But that's okay because you can get these metrics from Pinterest and from Google Analytics (extremely comprehensive).
Affiliate Disclaimer: This review contains affiliate links where we earn a commission if you sign up through them. However this in no way affects our recommendation. We actually use this tool and highly recommend it.
I've used Google Analytics through the years but there's sooooo much information there you could probably spend a year learning it all. Besides, you're (mostly) interested in what's going on with your Pinterest efforts, right? I'm excited to share about a recent discovery that has been amazing to use. It's Kristie Hill's Dashboard for Pinterest.
Kristie Hill is a blogging expert who teaches all things blogging. She's also used Pinterest extensively and, apparently loves digging deep into Google Analytics. Thank goodness for people like Kristie.
The Pinterest Dashboard she created shows you all your Pinterest stats on one page. 
The Pinterest Dashboard shows you…
which pins are performing best

which posts are most popular Pinterest

what type of content your Pinterest audience likes
Now here is the best part. The Pinterest Dashboard has been installed in Google Analytics by many top Pinterest experts and talked about on several Pinterest-focused Facebook Groups. Everyone loves the fact that with a few clicks to install, you can now look at all your Pinterest metrics in one place within Google Analytics.
Great for Pinterest Account Managers and PVAs
Taking it a step further for those of you who are Pinterest Managers, Pinterest Virtual Assistants (or maybe considering becoming a Pinterest VA) the Pinterest Dashboard can be used for your clients as well. If they have Google Analytics installed on their website or blog and shared with you, you can use the Pinterest Dashboard to review their monthly growth metrics, and even download it as a beautiful PDF report to send to them monthly.
All of us at Pinning Pro are finding the Dashboard for Pinterest to be invaluable. Not only are we loving seeing all our client's Pinterest metrics in one highly visual display within Google Analytics, but we are also learning some new things from her monthly growth suggestions too.
Whether for your own personal use or professional use, you'll benefit greatly from this helpful all-in-one place overview of any Pinterest account you are attending to.
The more saves your pins get the more they will be served up to other audiences looking for related information on Pinterest.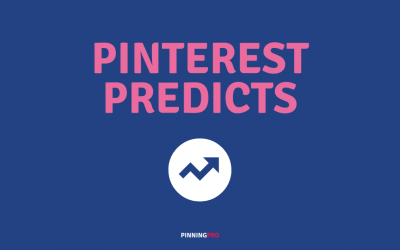 Pinterest Predicts research is based on in-depth search data and extensive analysis of user behavior and engagement. See what they're saying about 2023.
Use these practical, time saving tips for Pinterest marketers to help manage your account efficiently and effectively to grow your business.