Why hire a Pinterest manager when you're running a blog or online business? Well, if you're like most business owners, you're probably wearing too many hats and feel stretched in every direction. You're the content creator and publisher, graphic designer, email marketer and you likely do all of your Pinterest and social media posting too.
But what about your desire to focus on the parts of your business you're really good at and enjoy? That's when hiring a Pinterest Manager (or Pinterest Virtual Assistant / PVA) might make sense.
Pinterest is an amazing platform for getting traffic to your website or blog. But it's very time consuming to keep up with. You have to…
Do keyword research
Come up with pin text overlays
Design pins
Set up new boards
Write pin and board descriptions
Write board descriptions
Manually pin or automate pinning
And stay up with constant changes on Pinterest
Of course you could also outsource some of your content creation, publishing, graphic design work and or email marketing. But this article is about why it's smart to hire a PM or PVA.
Affiliate Disclaimer: This post contains affiliate links where we earn a commission if you sign up through them. However this in no way affects our recommendation. We actually all use the products, services, and courses we recommend.
When Hiring a Pinterest Manager Makes Sense
1) You're too busy to manage and grow your Pinterest account
Between all the tasks and projects you're juggling, there's just not enough time in the day to manage Pinterest well. What we mean by "well" is that Pinterest gives preference to accounts that are pinning fresh content, consistently. As in every. single. day. It's more demanding than the popular social media platforms because of the need to publish fresh pins daily. A Pinterest manager can help you manage and grow your account while freeing up your time to work on other parts of your business.
And let's face it, a successful Pinterest marketing strategy isn't easy to develop and maintain.You have to adjust your strategy and tactics pretty often. There are a lot of steps involved, from studying your analytics to reviewing pins and boards that are performing (or not), to coming up with fresh content, pins and new boards all the time. Plus staying up to date on Pinterest's ever-changing algorithm is practically a full-time job in itself. When you hire a PVA, it frees up a lot of your time.
2) You're not getting the traffic and results your Pinterest account should be delivering
Pinterest can be a powerful tool for driving traffic to your website or blog, but only if you're managing it correctly and consistently. If you're not seeing the results you believe your Pinterest account should be delivering, it may be time to hire a Pinterest manager who has a lot of experience marketing a variety of businesses on the platform.
An experienced PVA will help you create pins that attract your target market and get clicked. They'll study your analytics and review your account performance in order to develop a strategy that works. And they'll quickly adjust tactics as changes to the platform come up so no momentum is lost.
3) You're still managing your Pinterest account the same way you always have
Pinterest has undergone massive changes over the past 2-3 years. For example, the Pinterest feed used to be chronological. Then the algorithm started presenting users with more of the type of content they previously clicked on. Next came controlled distribution where Pinterest's algorithm shows different percentages of different types of pins (idea pins, video pins and static pins) to see which ones they interact with. Idea pins take more space in the feed up too, which means other pins are getting less attention.
If all of this is making your head hurt, consider outsourcing Pinterest management. A skilled manager will be very fast and efficient at doing all of the tasks required (think ROI). Additionally, they'll want to see you succeed on the platform because your success is their success.
A reputable Pinterest manager or virtual assistant is an excellent asset to any business that wants to use Pinterest as an effective organic marketing tool.
Wrapping Up
When you decide to hire a Pinterest manager you'll not only save yourself a lot of time, but you'll feel confident knowing your account is being managed well. There are a lot of moving parts when implementing a successful Pinterest marketing strategy.
Hiring a Pinterest Manager or VA who knows how to juggle all of these pieces for your unique account is the gift that keeps on giving. More fresh, diversified and optimized pins and boards lead to more traffic, email signups or whatever your goals for using Pinterest are.
–
Not quite ready to hire a Pinterest manager? Learn how to manage your own Pinterest account by taking a Pinterest marketing course.
–
Alternatively, perhaps you want to know more about becoming a Pinterest manager or PVA that busy business owners / bloggers want to hire. Get on the waiting list for the Become a Pinterest VA training program. The next enrollment period is coming up soon.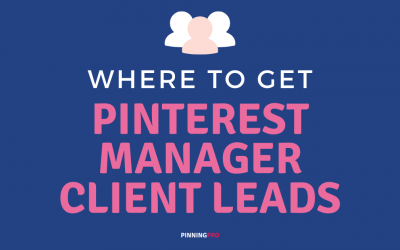 Managing Pinterest clients as a PVA or Manager can feel like "feast or famine." Let's explore different ways to keep the Pinterest Manager client leads pipeline flowing.
Use these practical, time saving tips for Pinterest marketers to help manage your account efficiently and effectively to grow your business.
Tailwind has launched a Beta version of their much anticipated AI Pin Description Writer. They've changed its name a few times but currently it's called "Ghostwriter."