Thanksgiving Pinterest marketing keywords along with seasonal trends, phrases and quotes will help drive more click-throughs from your pins to your website or blog during November. First, let's start at Pinterest Search bar.
Thanksgiving Keywords Using The ABC Drilldown Method
Do some keyword research using Pinterest's Search. Try to think creatively – as in beyond the super common words, like recipes, crafts, decorations).
Using the ABC keyword research method on Pinterest Search, enter "Thanksgiving a" and grab any keyphrases from the suggested ones that make sense for your niche. Enter "Thanksgiving b" and write down relevant ones from the results. Repeat using each letter of the alphabet. In just a few minutes you'll have a really relevant list of Thanksgiving Pinterest marketing keywords to use.
Now let's take your keyword list to the next level. Start by entering your first keyphrase. Let's say it's "Thanksgiving activities." Look at the next level of suggestions that show. For example, you might see:
For kids | for toddlers | for preschool | for teens
When you see keyphrases that work for your niche, click to keep drilling down. These longer keyphrases are great to use for your pin descriptions too. Add them to your growing keyword list.
Click on the Shop button to get keyword ideas from accounts selling products related to different keywords and phrases. And click the Profile button to see what others are targeting for this holiday.
Affiliate Disclaimer: This post contains affiliate links where we earn a commission if you sign up through them. However this in no way affects our recommendation. We actually all use the products, services, and courses we recommend.
If Thanksgiving is a high sales volume holiday for you, consider investing in some more robust keyword research software like Pin Inspector to help you quickly find Thanksgiving Pinterest marketing keywords. Pin Inspector brings back top keywords, trending searches, top converting content and the best performing ads directly on the Pinterest platform.
Thanksgiving Trends To Target on Pinterest
Another way to go about looking for Thanksgiving Pinterest marketing keywords is by using the Pinterest Trends Tool. First, choose the location or region you're interested in targeting. Then drill down using filters. For example, choose a specific date range (i.e., November 01 – 30). You can also look at specific interests and age demographics.
Study the growing trends like those with high search volume growth in the last 90 days. And review top monthly trends that have high search volume in the last 30 days. Also look at seasonal trends that repeat each year. The seasonal trends search filter is perfect for finding traditional and new Thanksgiving trends.
Thanksgiving Phrases To Use For Pinterest Marketing
You'll likely hear all kinds of Thanksgiving phrases during November. Some are inspirational, others meaningful and some may make your eyes roll.
Count your blessings
In all things give thanks
Always be thankful
Give thanks with a grateful heart
Thankful, grateful, blessed
Gather here with thankful hearts
Attitude of gratitude
Pumpkin spice and everything nice
It's turkey time
Thanksgiving Quotes To Use On Pins
One way to incorporate Thanksgiving Pinterest marketing keywords is by adding quotes to pins. Here are a few popular quotes about thankfulness, blessings and gratitude.
Thankfulness creates gratitude which generates contentment that causes peace. — Todd Stocker
When I started counting my blessings, my whole life turned around. — Willie Nelson
If you are really thankful, what do you do? You share. — W. Clement Stone
Thanksgiving creates abundance. — Ann Voskamp
We must find time to stop and thank the people who make a difference in our lives. — John F. Kennedy
The hardest arithmetic to master is that which enables us to count our blessings. — Eric Hoffer
Grateful for each hand we hold, gathered round this table. — Mary Chapin Carpenter
The thankful receiver bears a plentiful harvest. — William Blake
No matter what our circumstances, we can find a reason to be thankful. — David Jeremiah
It is one thing to be grateful. It's another to give thanks. Gratitude is what you feel. Thanksgiving is what you do. — Tim Keller
Tip: do a search on Pinterest for "Thanksgiving quotes" and you'll find many more.
Thanksgiving Words To Weave Into Pin And Board Descriptions
Many words are associated with Thanksgiving that are not necessarily searched for keywords. If they relate to your niche add them to your pins wherever it makes sense to do so.
Abundance
American
Appreciation
Family
Grateful
Gratitude
Harvest
Hearth
Laughter
Memories
November
Plentiful
Reflections
Relatives
Season
Thankful
Tradition
USA
Here's a very long list of words associated with Thanksgiving that include common menu items, history, traditions and more.
Thanksgiving Pinterest Marketing Keywords About Food
Thanksgiving is a lot about preparing an abundant meal to share with family, friends and neighbors. Naturally keywords related to menu items are highly searched for on Pinterest during October and November. Here are a few to get you started:
Turkey
Stuffing
Dressing
Potatoes
Gravy
Rutabaga
Yams
Squash
Green bean casserole
(fill in the type) casserole
Rolls
Cranberries
Cranberry sauce
Apple pie
Pumpkin pie
Pecan pie
Thanksgiving Traditions for Keywords
There are many traditions around the Thanksgiving holiday. They can vary widely depending on location but here are some really common one:
Inviting family, friends, neighbors for the Thanksgiving meal
Preparing an abundant meal that includes serving turkey, dishes made with harvest time vegetables, fruit, pies and more
Going around the table and sharing what you're most thankful for
Watching pro football games and playing yard football
Giving back by serving (like at a food bank or homeless shelter)
And don't forget Black Friday shopping the next day!
Thanksgiving Bucket List Keywords
An increasingly popular thing for families to do is create seasonal and holiday bucket lists. If creating pins for your audience's Thanksgiving bucket list makes sense for your niche, add some of these or create your own.
Organize a mini pumpkin / gourd hunt (like a scavenger hunt)
Go through toys and give to a charity
Write a gratitude list
Try a new Thanksgiving dish
Go to a corn maze
Read a Thanksgiving themed book out loud
Run in a Turkey Trot with the whole family
Decorate with items from nature (leaves, pumpkins, acorns)
Make homemade apple cider
Handwrite a letter of thanks to someone
Call someone and tell them you're thankful for them
Go apple picking
Make a cornucopia
Start using Thanksgiving Pinterest marketing keywords at the beginning of October and throughout November each year. Use them on your pin text overlays, pin titles, pin descriptions, board descriptions and of course in the content your pins will link to. Doing some keyword research right on the Pinterest platform or using Pin Inspector helps you keep your pins focused on this specific holiday.
Happy Thanksgiving!
The more saves your pins get the more they will be served up to other audiences looking for related information on Pinterest.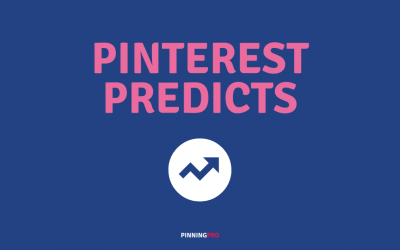 Pinterest Predicts research is based on in-depth search data and extensive analysis of user behavior and engagement. See what they're saying about 2023.
Use these practical, time saving tips for Pinterest marketers to help manage your account efficiently and effectively to grow your business.