A New Way Of Using Tailwind to Streamline Pinterest Marketing
Affiliate Disclaimer: This post contains affiliate links where we earn a commission if you sign up through them. However this in no way affects our recommendation. We actually all use the products, services, and courses we recommend.
The new Tailwind AI Pin description writer is here. They've changed its name a few times but currently it's called "Ghostwriter."
If you manage your own Pinterest account or manage business accounts for others and use the app for creating and scheduling pins, you'll want to check it out. Tailwind's Ghostwriter is already working really well and we feel like it will be a game changer for the important but time consuming task of writing pin descriptions.
The AI Tool Explosion
Marketers everywhere are seeing an explosion of Artificial Intelligence (AI) marketing tools. There are so many new apps, tools and software for auto-generating content topic ideas and even full blog posts. We're seeing AI headline and meta description creating tools as well as product description generators, hashtag lists creators and even AI generated images and videos!
Naturally there are many concerns about the use of these tools vs. creating unique original content and visuals when it comes to websites and blogs. Search Engine Journal published an article about Google's stance on AI generated content. Not surprisingly, it's against their guidelines. But content related AI tools can be super helpful when used for inspiration and starting points for your content. They can also be "trained" to some degree.
While it's too soon to see where all this Artificial Intelligence will take us, for now, we're focusing on Tailwinds AI Pin Description Writer aka Ghostwriter. Based on its purpose – which is not to write web pages or blog articles – it seems safe to assume that it will be super helpful for generating excellent pin descriptions that can be edited as much or as little as you choose.
Where To Find The Tailwind AI Pin Description Writer
To locate Tailwind's "Ghostwriter" login to your Tailwind account and go to Drafts. Click on a pin draft and the usual window will open up where you normally add the Pin URL, title, description and the board you want the pin to go to.
Just to the right of Pin Details at the top you'll see "Ghostwrite for me." Click that link and a new window will open. Let the tool know what you are writing about by choosing from the drop down menu which currently has these choices…
a featured product
a promotion or sale
behind the scenes
lifestyle content
informational content
*it's possible more choices will be added over time
Next, you can add 1-3 keywords or keyphrases that help the AI to create the best pin description.
Add a Call To Action (CTA) which entices click throughs and other types of engagement.
Next, click "Generate Description" and voila! You have a keyworded description that you can leave as is (if it makes sense and reads naturally) – or – tweak as much as you like.
Continue filling in the usual fields before scheduling your pin.
Rinse and repeat. You've just reduced the time it takes to do pin scheduling by using the Tailwind AI Pin Description Writer!
If You Don't Use Tailwind
If you don't have a Tailwind account but still want to write your Pinterest pin descriptions faster, try Pin Description Prompts. Similar to Tailwind's AI Pin Description Writing Tool, you'll be able to write high quality keyword-rich descriptions faster with simple to use prompts that work for any niche. It's not quite "click the button fast", but it's much faster than writing each one from scratch.
Tailwind Keeps Adding More and More Marketing Functionality
We started using Tailwind several years ago when it was mostly for scheduling Pinterest Pins. A short time later they added AI automated image designs and smart scheduling. Just these tools alone shaved off hours of time spent on managing Pinterest accounts for our clients. We personally don't use the AI generated designs "as is" but with some editing, they work well, particularly for informational type pins.
Over time, Tailwind has added Instagram and Facebook marketing tools (much like those they have for Pinterest) so you can basically create all of your social media content and images as well as schedule everything just from this app.
Recently, Tailwind launched a full email marketing system within the app and announced that a new module called Tailwind CoPilot is coming soon. CoPilot will give business owners personalized, easy-to-follow marketing plans to help you know what to post, how to grow and what to focus on next. The CoPilot plans will cover social and email, and include prompts to help you create amazing content.
What started as a post to share about the Tailwind AI Pin Description Writer ended up being all about Tailwind itself. Hope you found the overview helpful!
Update!
If you've been using Tailwind's browser extension on Chrome, Safari or Firefox, you may have noticed recently a Tailwind Ghostwriter icon on the bottom right of every web page you visit. Just wait until you click on it! 
Tailwind Ghostwriter not only does what was covered in the above article, but now it's a full content assistant! Tailwind now supports a long list of generative AI text creation including…
Any kind of copy or image

Email subject lines

Instagram captions

Facebook posts

Pinterest pin titles and descriptions

Twitter posts

Hashtags

LinkedIn posts

TikTok video descriptions
And a fast-growing list of other AI writing options you need when working online. Plus, they have said additional applications are in development and will be released soon.
This tool is a major timesaver! Seriously, when you click on this icon (not the TW extension button in your browser, the one on the bottom right of every web page) you will be mind blown. 
The more saves your pins get the more they will be served up to other audiences looking for related information on Pinterest.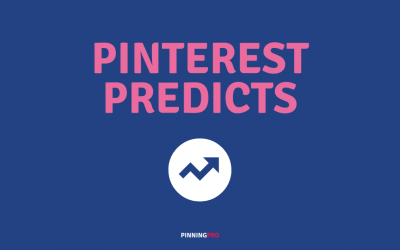 Pinterest Predicts research is based on in-depth search data and extensive analysis of user behavior and engagement. See what they're saying about 2023.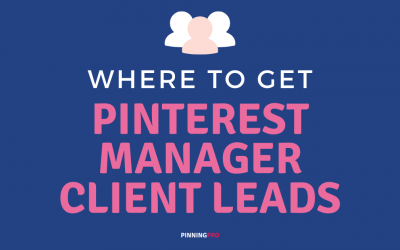 Managing Pinterest clients as a PVA or Manager can feel like "feast or famine." Let's explore different ways to keep the Pinterest Manager client leads pipeline flowing.