Pinterest Primer Basics for Bloggers 
Affiliate Disclaimer: This post contains affiliate links where we earn a commission if you sign up through them. However this in no way affects our recommendation. We actually all use the products, services and courses we recommend.
Totally new to using Pinterest for business? Here's a quick overview of the best Pinterest Primer we've come across for bloggers and solopreneurs just getting started on the platform.
McKinzie Bean has helped 1000s of bloggers increase their traffic using Pinterest and she has the street cred to go with it. She's been featured on Forbes, the Huffington Post, Tailwind and several other highly respected publications. We learned about her through Tailwind, our favorite App for Pinterest scheduling, marketing, and analytics.
McKinzie's Pinterest Primer helps bloggers and small business owners get started on Pinterest by laying a solid foundation for future growth.
The Primer is divided into 5 mini-lessons and there are two ways to take it…
On Teachable – do all the mini-assignments in one sitting
By Email – follow along 5 days in a row and do the mini-assignments
Day 1 – covers setting up a strong profile and what you need to include so that you get found on Pinterest by people looking for what you offer.
You'll learn…
What to use for your profile image and why

What exactly to put as your brand name (it's not always obvious)

How to choose the best username (and why it might be different from your brand name within Pinterest)

How to write your bio (especially with so few characters allowed!) so you properly convey who you are, who you help and what your visitors can expect
DAY 2 – whether you want to learn how to drive traffic from Pinterest to your blog or site to increase your subscribers and / or your income, Day 2's lesson is a must do. You'll learn more about things you've probably been hearing about like…
pin size / ratio

what colors and fonts to use

how to write and SEO pin descriptions

when the best times to pin are

how often to pin

and more
Day 3- Here's where the Pinterest Primer gets really interesting! You'll get a super helpful overview on…
how to schedule pins (think Tailwind)

how to batch pin scheduling (to save you loads of time)

using the Smart Calendar

how to create board lists (another time saver!)

which analytics matter most

using the browser extensions (on Chrome, Firefox and Safari)

and more!
Can you believe there are still 2 more lessons in this Pinterest Primer – and all for free!
DAY 4 – McKinzie talks about myths surrounding Pinterest like "it's a platform for crafters" or "Pinterest won't work for my niche" or "all those images are going to be costly." You'd be surprised at some of the crazy myths there are about Pinterest. This is the lesson where you'll find out what's accurate and what isn't.
DAY 5 – in this last lesson, you'll learn about common mistakes to avoid making, like using poor quality images (there are great images on some free stock platforms!), not paying attention to your analytics, and forgetting to make your website or blog Pinterest friendly.
The Pinterest Primer will help you get started with a well optimized Pinterest business account. Even if you've been using Pinterest for business for a while, you're likely to find some golden nuggets in this super helpful Pinterest Primer.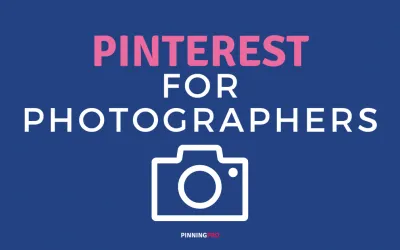 If you have a photography business, Pinterest can be a game changer. Learn strategies to take your business up a notch.
Lately, Pinterest is all about "fresh" pins. Learn what that means and how you can use that knowledge to your benefit and drive even more traffic to your site.
It's important to audit and clean up your Pinterest boards occasionally to be sure your profile remains focused on your business and targeted toward your audience.