Starting with Pinterest
Starting with Pinterest to market your business is not difficult – but there are a lot of moving parts.
If it all feels a bit overwhelming to you and you're not sure what steps to do first, take this free 1-minute quiz to find out your next right step. It's just four questions to find out what "level" of Pinterest marketer you are so you can be properly guided to the best starting place to avoid any confusion or overwhelm.
After taking the quiz, the first thing you'll need to do is decide what your goal is for using Pinterest. Here are some possibilities…
drive traffic to your website or blog
increase email signups
sell products or services
advertise
Affiliate Disclaimer: This post contains affiliate links where we earn a commission if you sign up through them. However this in no way affects our recommendation. We actually all use the products, services, and courses we recommend.
Drive Traffic To Your Website Or Blog
If your goal is to drive traffic to your blog or website, you'll need to make sure it's optimized for this goal. As in you have an email signup form / page setup to link your Pinterest pins to.

Increase Email Signups
It's one thing to drive more traffic to your site or blog. It's another thing to actually get people to actually enter their email address and sign up. Offering a freebie optin or something of value to people in exchange for their email address is a great way to help increase signups.
Sell Products or Services
Whether you are selling physical or digital products or services, you'll want to make sure your site is optimized for selling before driving traffic from your pins to your product or service pages where they can be purchased.
Advertise
We recommend starting with Pinterest organically before doing any advertising. Learning the organic flow of things will inform you on how to target your ads. Plus you can turn existing pins into ads.
Starting With Pinterest Search and Discovery
When you're just starting out with Pinterest, keep in mind that it's a search and discovery platform first and foremost. In other words, there is not a lot of social interaction going on. People are mostly using keywords when they are looking for inspiration, wanting to discover new things, planning for trips, seeing the latest fashions, dreaming about a vacation or wedding, and a myriad of other reasons. But for the most part, people are not really engaging with each other like they would on Instagram or Facebook.
So when starting with Pinterest, you'll want to set up your business profile to communicate who you are, what you or your business is about, how you serve your audience, along with your site or blog URL.
The best way to get all the basics right from the get-go is to signup for the Pinterest Building Basics email series. Over a 5 day period, you'll receive daily emails with video tutorials that walk you through…
identifying the right keywords to use
setting up your Profile (including all the setting options)
claiming your domain(s)
creating optimized boards
tips for designing pins that get clicks through to your site
developing a Pinterest strategy that aligns with your goals
The Building Basics email series is simple, actionable training for starting with Pinterest.
Once your goals for using Pinterest are set and your account is ready to go, it's time to design Pinterest pins that convert and set up boards with well keyworded descriptions.
Pinterest is a secret weapon for many creators. Learn how you can use the power of Pinterest to drive traffic to your blog, store or website.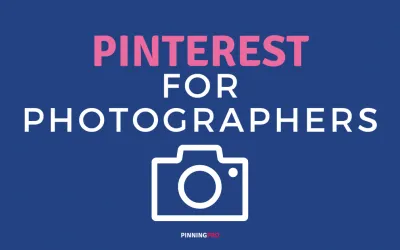 If you have a photography business, Pinterest can be a game changer. Learn strategies to take your business up a notch.
Lately, Pinterest is all about "fresh" pins. Learn what that means and how you can use that knowledge to your benefit and drive even more traffic to your site.