Is Your Social Media Marketing Engagement Down?
Affiliate Disclaimer: This post contains affiliate links where we earn a commission if you sign up through them. However this in no way affects our recommendation. We actually all use the products, services, and courses we recommend.
For those of us following social media trends, it's been an interesting week for the future of social media marketing and engagement with followers.
We first noticed that Facebook may be making significant changes to their advertising platform by no longer allowing business Pages to target their followers/likers with ad campaigns. 
According to Olivier Ponteville over at Be Connect, he saw the change last week:
If true, this is a troubling update in our opinion. It's great that you can send Facebook ads to followers who have engaged with your Page by either commenting, liking a post, clicking a link, or sharing a post. 
But what about the 99% of users who DON'T engage with your business or brand Page? Sorry, folks. If you have a new house on the market to share or a free download you want to give away to your community or a new product to launch, you may not be able to use Facebook ad campaigns to reach your entire fan base. 
You'll have to continue relying on organic reach – and we all know how well that works for small business Pages on Facebook 😉
In a blog post sharing a quote from Old Navy's VP of Brand Marketing, Lian Weingarten, IG pretty much let the cat out of the bag about their plans for Instagram's future (profits):
"We've long seen that customers want to discover fashion through trusted sources who have credibility, but organic reach on that content has become increasingly limited."
(Emphasis our own)

https://mashable.com/article/instagram-branded-content-ads-limited-organic-reach/
If a big player like Old Navy can't get seen, what happens to small business owners and bloggers like you?

It's not a surprise that Instagram is moving toward paid advertising as the best way to reach followers. It is owned by Facebook, after all. And if your budget allows for it, it's not a bad idea to include paid advertising in your marketing efforts. It's just one of many ways to reach your audience.
Unfortunately, though, not everyone has money to put into advertising. But maybe that's okay, because you know about keywords and SEO and your site is always at the top of Google search results anyway so you get a ton of FREE traffic. Right?
Erm. 

Michael Stelzner over at Social Media Examiner voices his concern that Google is moving away from providing lots of answers to your question (via search results to trusted sources) and instead, just answering the question for you, thus not requiring a click-through to your site or blog.
https://www.socialmediaexaminer.com/death-google-search-traffic-what-it-means-for-marketers/
What Michael and others like him are seeing is that a huge percentage of Google search engine results are directed to…other Google properties, like YouTube, Google Maps and more. If the question can be answered simply, Google's doing the work…and profiting.

Which means your well-written lengthy page about the history and development of Sacramento, California's capital city, isn't going to get the clicks it once did.
Google's the biggest player in the search engine game, by far, with more than 94% of the US search market. For a long time, we've all played Google's games, changing up how we write for our blogs, SEOing our pages (no more white text! ;)), and marketing our businesses across the web. To a degree, Google's "altruistic" side in wanting to provide users the best experience possible helped a lot of businesses grow successfully.
But as we move toward a world of Alexas and Siris, where we no longer want to find the information ourselves, but be GIVEN the answer, Google needs to adapt too. Which could mean a loss of organic traffic for lot of us.

So…what's next? This isn't meant to be a "the sky is falling!" post. Most of us can adjust to the changes we're seeing at Facebook, Instagram and Google.small Facebook Pages may no longer be very useful, but groups are still good! On Instagram, getting in early with their advertising platform likely means low-cost ads that really deliver on ROI. And who needs Google when you've still got Bing?! 😉
If you've been marketing your business online for more than a minute, you already know that diversification and willingness to adapt is key to business success. So in a way, this is all probably not surprising news.
So what are your next steps to keep your momentum going? If Instagram, Google and Facebook may no longer give you the results you want, what other platforms can you use to keep things going forward?
Have you looked at adding Pinterest to your marketing strategy? Maybe you're wondering if your business is the right fit for a place like Pinterest?
Whether you have an existing Pinterest account, want to start one, or aren't sure it's where your business needs to be, we can help!
Learn about some of our services here!
Or shoot us an email to start the conversation.
We look forward to helping you 🙂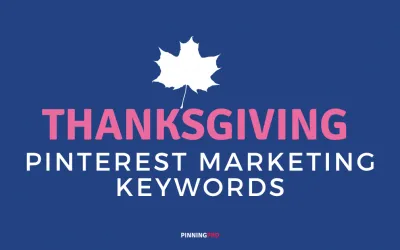 Find Thanksgiving Pinterest marketing keywords (and tips) to help drive more click throughs to your website during November.
Tailwind has launched a Beta version of their much anticipated AI Pin Description Writer. They've changed its name a few times but currently it's called "Ghostwriter."
When you think of Pinterest, it's alllll about the images. Learn about designing pins that get clicked.