Learn How to Do Pinterest Paid Advertising Successfully
Taking a Pinterest ads promoted pins course is the best way to level up your advertising skills. But where can you find a good course that actually teaches you more than you can learn from the free help on Pinterest?
Easier said than done. 
Affiliate Disclaimer: This post contains affiliate links where we earn a commission if you sign up through them. However this in no way affects our recommendation. We actually all use the products, services, and courses we recommend.
A couple of years ago we discovered Monica Froese's Promoted Pins courses and they were amazing. Almost every Pinterest marketer out there knew about her courses. They were really that good. But then… she decided to retire them all and move in a totally new direction in the digital product creation niche! 
Great for Monica. Bad for anyone looking for a good Promoted Pins course. Retiring her Promoted Pins courses left a huge gap in the online world as there were no other high-quality Pinterest ads courses around. 
Simple Pin Media later announced they'd be opening a whole new division dedicated to teaching Pinterest advertising. We love everything that comes out of Simple Pin so we joined the Beta group right away to see what it was going to be like. They've since rolled out this new membership community which helps business owners learn, run and scale Promoted pins (now simply called Pinterest ads). After the Beta group, we became founding members of their new Simple Pin Ads Society. 
What does this have to do with you? You can get an insider's view about the membership from us! 
A New Way To Learn Pinterest Advertising
Okay, so we need to be clear that the Simple Pin Ads Society is not a Promoted Pins course. It's an educational membership community dedicated entirely to learning Pinterest advertising. There are "course-like" aspects to it in terms of video training and tutorials, but there's a lot more to it than simply DIY learning like you would by taking a regular course. 
There are training modules to help anyone from newbie to semi-experienced learn how to set up and run effective Pinterest ad campaigns. You can ask questions in a forum and even have your Pinterest ad campaigns peer-reviewed for feedback. It's an excellent way to learn more about ads before spending a bunch of money figuring things out on your own. And money can go really fast when it comes to advertising.
The Simple Pin Ads Society is for anyone who is looking for a Pinterest ads promoted pins course but hasn't found one (because there isn't a good one anymore!).  It's great for those who want to learn how to run ad campaigns but need help and guidance. It's also excellent for Pinterest managers and PVAs to learn this valuable and in-demand skill to offer as services to business owners. 
Biggest Benefits: Community and Up To Date Info
We initially thought we just wanted a good how-to resource for upping our Pinterest ads game but we've met so many talented business owners in the community that it's been awesome for making connections. 
Another benefit – and this is huge since Pinterest is constantly changing things – is the fact that the information is current. When you take a Pinterest Ads Promoted Pins course or any course for that matter, having it kept up to date is sooooo important. But it's also rare because course owners struggle to keep their courses updated! With a live interactive community that is constantly learning the latest information about Pinterest ads, the Simple Pin Ads Society is amazing. 
Using Pinterest ads is useful for a variety of reasons especially if you've mostly only focused on organic Pinterest marketing before. Some people in this membership are creating campaigns to give their pins a jumpstart with engagement. Others are diving deeper into the process and including advertising in their marketing budgets to scale their business faster.
You can muddle around with Pinterest ads yourself and use the Pinterest platform's free online help to start advertising, but in our opinion, you won't learn the nuances and strategies for optimizing campaigns to get the best results. The Simple Pin Ads Society could be a game-changer for your business.
NOTE: if you are reading this and the Simple Pin Ads Society is currently closed for enrollment, get on the waitlist for their next open enrollment period here.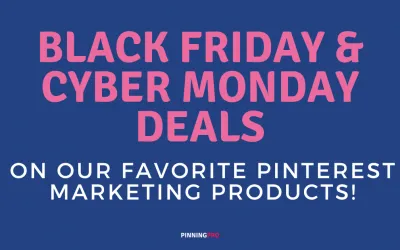 Take advantage of great savings with these Pinterest-related flash sales happening this holiday season.
Did you know you can use interest targeting on Pinterest for organic marketing purposes too?
You can use Pinterest ads to build awareness about your products and business, attract more traffic to your website or blog.