Pinterest vs social media is a common consideration that many small business owners ponder. When you're the only one doing content creation, publishing, graphic design and marketing, you'll naturally want to prioritize marketing on the platforms that will help grow your business best.
Many bloggers / businesses don't fully understand the differences between the types of marketing strategies needed for Pinterest vs Social Media platforms like Instagram, Facebook or Twitter. While there are some crossover aspects to each platform and how to market on them, this article aims to clarify the differences, so you can make an informed decision about where to spend your time.
Pinterest Is A Visual Search & Discovery Platform
Pinterest is often referred to as a "visual search and discovery platform." People go on Pinterest and search via keywords which bring back pins (visuals in the form of static, video or multi-page). Or they simply scroll and discover things via pins in their feed. They aren't really looking to comment, like, share or otherwise interact. And that's one major distinction between Pinterst vs Social Media.
People use Pinterest as a search engine when they plan for an event, trip or a home remodel, need new activities to do, are in dream mode or simply want to discover fresh ideas. They save pins to boards for future reference, or click through pins to find out more about whatever content it leads to. Unless it's a recipe or craft pin, pinners rarely engage by commenting, liking or using other typical forms of regular social media engagement.
Social Media Is For Building Engagement
If engagement is your primary goal, start with social media platforms like Instagram, Facebook and Twitter.
Instagram is all about engagement and brand building. Instagram's primary purpose is to allow users to share images, reels or videos with their audience and get feedback (engagement). It's a great platform for building a brand and for finding influencers (or becoming one).
Facebook is about keeping up with people's lives – or joining special interest groups. Facebook uses imagery, videos, reels and stories and also text. And interaction is huge on the platform.
Twitter is about news and networking where people interact via short form text, known as Tweets. People use images and videos on Twitter but it's primarily a text based platform.
Pinterest Is An "All About You" Platform
Pinterest on the other hand is all about you – your dreams, aspirations, plans, goals and interests. Not other's. People don't use Pinterest to catch up with friends, have a text based discussion, or be entertained by video (although that is starting to change) or to become the next influencer.
So for businesses, since Pinterest isn't actually social media (even though it's commonly referred to as such), it's ideal for marketing purposes. Use Pinterest to showcase your blog posts in the form of pins and drive targeted traffic to your posts. All those people who are dreaming, planning and wanting to discover new ideas include people in your target market.
Of course you can get organic traffic from the popular social media platforms, but Pinterest surpasses them all in terms of the ability to get traffic. Why? Because every optimized pin and board includes keywords and SEO'd descriptions. Each has the potential to show up in Pinterest's search results when those keywords are searched for. They can also be "discovered" in feeds.
Pinterest is one of, if not the best method, for driving more organic traffic and leads to your website, blog posts, and other content. Many online businesses state that Pinterest is their #2 driver of traffic, after Google. The traffic generating potential is huge.
When contemplating Pinterest vs Social Media for marketing purposes, if traffic is your goal, then get your Pinterest strategy going first. You can always add one or more of the popular social media platforms once your Pinterest marketing is underway.
Social Media For Community Building
If your goal is to build an online community, then you'll want to use one (or more) of the popular social media platforms rather than Pinterest. It takes more effort to create content, build engagement, and grow an audience on social media. But if growing a community is your primary goal, Pinterest is not where you would start. Consider Facebook or Instagram instead.
Pinterest vs Social Media: Which is better?
It depends! To succeed on Pinterest, you need to have excellent pin design, a solid understanding of keywords and a pinning strategy that will work for your business. You also need to be willing to play the long game. Pinterest works more like a search engine, so it takes time for pins to rank.
With Social Media, you still need to have excellent image design and high value content of course. You'll also need an engagement strategy to help you connect with your target audience. And you should plan to test out stories, reels, live video, and static images too.
So on one hand having a keyword strategy is important on Pinterest. Having an engagement and / or community building strategy is important on Social Media.
Wrapping Up Pinterest vs Social Media
When it comes to Pinterest vs Social Media, start with the lowest hanging fruit as it relates to your unique business needs. Build up that first platform before adding another, otherwise you'll spread yourself too thin.
Pinterest is great for driving traffic. Social media is better for engagement and community building.
Whichever platform you start with, you'll need to be consistent, provide original high value content, share excellent graphics, videos, reels, stories and understand keywords and hashtags.
The more saves your pins get the more they will be served up to other audiences looking for related information on Pinterest.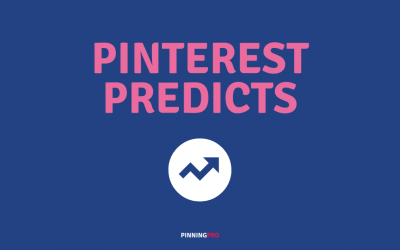 Pinterest Predicts research is based on in-depth search data and extensive analysis of user behavior and engagement. See what they're saying about 2023.
Use these practical, time saving tips for Pinterest marketers to help manage your account efficiently and effectively to grow your business.