How to do Keyword Research on Pinterest
Pinterest keyword research is the first thing you need to do if you're going to market your business on the platform. You'll use keywords to rank your pins and boards to get them to show up in Pinterest Search. Incorporating well-researched keywords helps people find your content and click over to your site or blog.
Keywords also inform the Pinterest algorithm so it understands how to categorize your content and serve it up to Pinterest users who are searching for your content – even if they are not following you – but are interested in your topics.
You'll hear terms tossed around like "Pinterest keywording" or "Pinterest SEO" or "Pinterest trends." Mostly these terms are about the same thing when it comes to Pinterest, but there are a few nuances which we'll talk about in a bit.
Since Pinterest is a search engine (a visual one), it's logical that everything you publish to Pinterest is searchable. And searchable means people enter words (keywords to us marketers) or word strings into the search bar to find what they're looking for. This is similar to how you would search on Google.
Affiliate Disclaimer: This post contains affiliate links where we earn a commission if you sign up through them. However this in no way affects our recommendation. We actually all use the products, services, and courses we recommend.
Pin Inspector
Pinterest keyword research is very different than keyword research you would do to rank on Google. Up until 2021 there wasn't even a proper keyword research tool for Pinterest other than Pinterest's Trends Tool. Now marketers can use Pin Inspector.
Pinterest users also scroll through their home feeds to find things they're interested in but… scrollers are typically in "discover" mode or "passing the time" mode. They're not searching by using keywords. 
You want your pins to be found by "searchers" and "discoverers." For this article though, we'll only focus on the searchers who use keywords to find things and how to do the actual keyword research which you'll use in many areas of your Pinterest marketing.
Use The Search Bar For Pinterest Keyword Research
Enter a keyword into the search bar.
Pinterest serves up pins that are "SEO'd" for the keyword you entered. SEO, in this case, means the owner of each pin included this keyword and related keywords in the pin text overlay, description, and possibly other places like the board title and board description the pin was originally pinned to.
Beneath the Search Bar, you should see a row of colored tiles with words on them. If you do not see the tiles, change the search setting from "All Pins" to "Videos." (Pinterest likes to change things around). If you still don't see the colored tiles, you'll need to use the search bar.
If you do see the tiles, these are keywords that are frequently used with the keyword you entered.
A good keyword will have at least a dozen additional recommended keywords (on the colored tiles). More than a dozen is even better.
Click on one that makes sense for, or helps refine your search. Pinterest adds the keyword from the title to the keyword you already entered to create a "search string" – also known as a longtail keyword. It then re-populates the results with pins using
both
keywords.
Add another keyword tile and the same thing happens.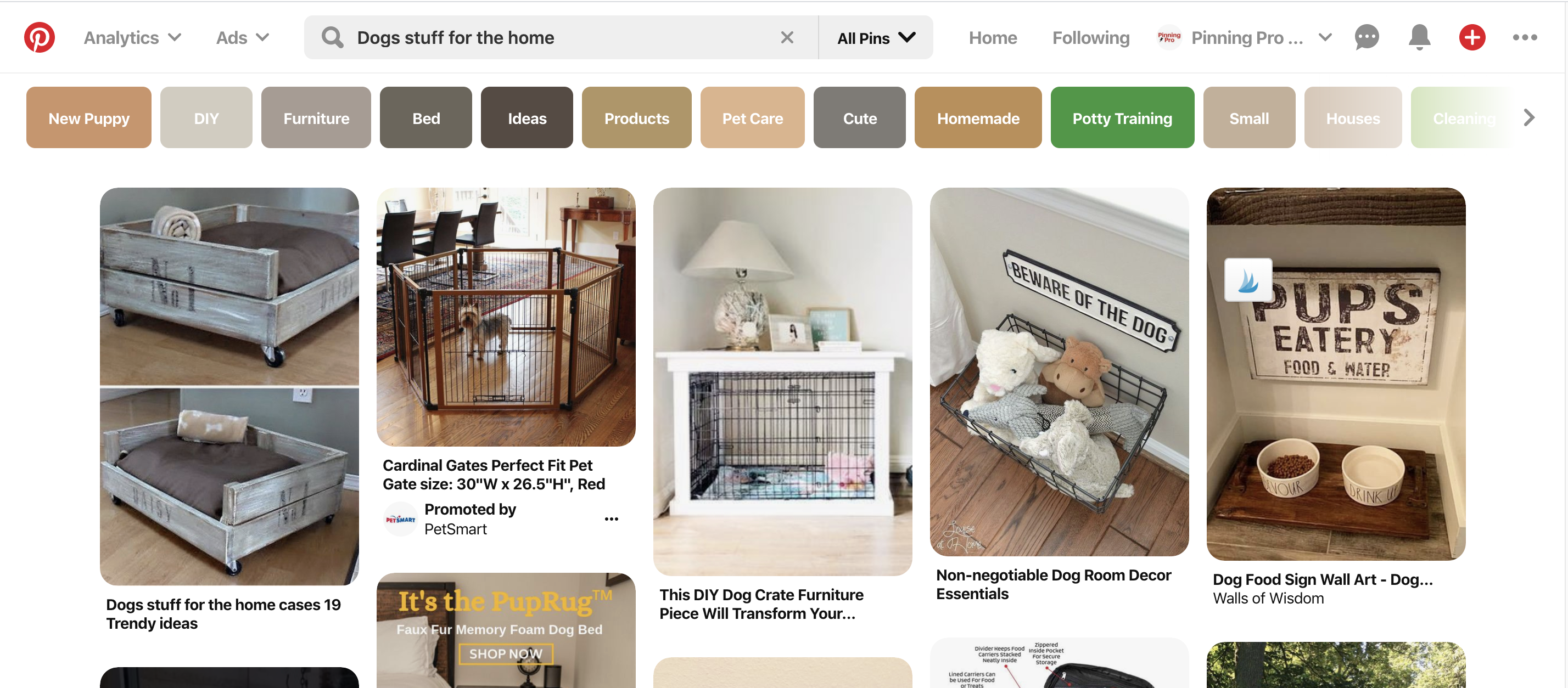 Pinterest Keyword Research For Your Niche
Now that you understand how the Pinterest Search Bar works, let's do some keyword research for your niche. Remember, your goal for doing this keyword research is to help Pinterest users find what they are searching for. When they enter a keyword related to your business, your pins and boards will come up, if you've keyworded them well.
Create a Simple Spreadsheet
Use the Pinning Pro Pin Tracker (or create your own spreadsheet) before starting your keyword research.
Enter your niche's primary keyword in the keyword column and then enter it in the Pinterest search bar.
Pull all the keywords on the tiles that are relevant to your niche / target market that make sense to use with your primary keyword.
Add them to column B on your spreadsheet.
Return to the Pinterest Search Bar and enter your primary keyword again. Pinterest makes suggestions in the drop-down based on search volume, much like Google does. It just doesn't tell us what that search volume is (yet). We only know the suggestions are based on the most popular searches and this is what we have to work with (for now). 
Add these to column C on your spreadsheet.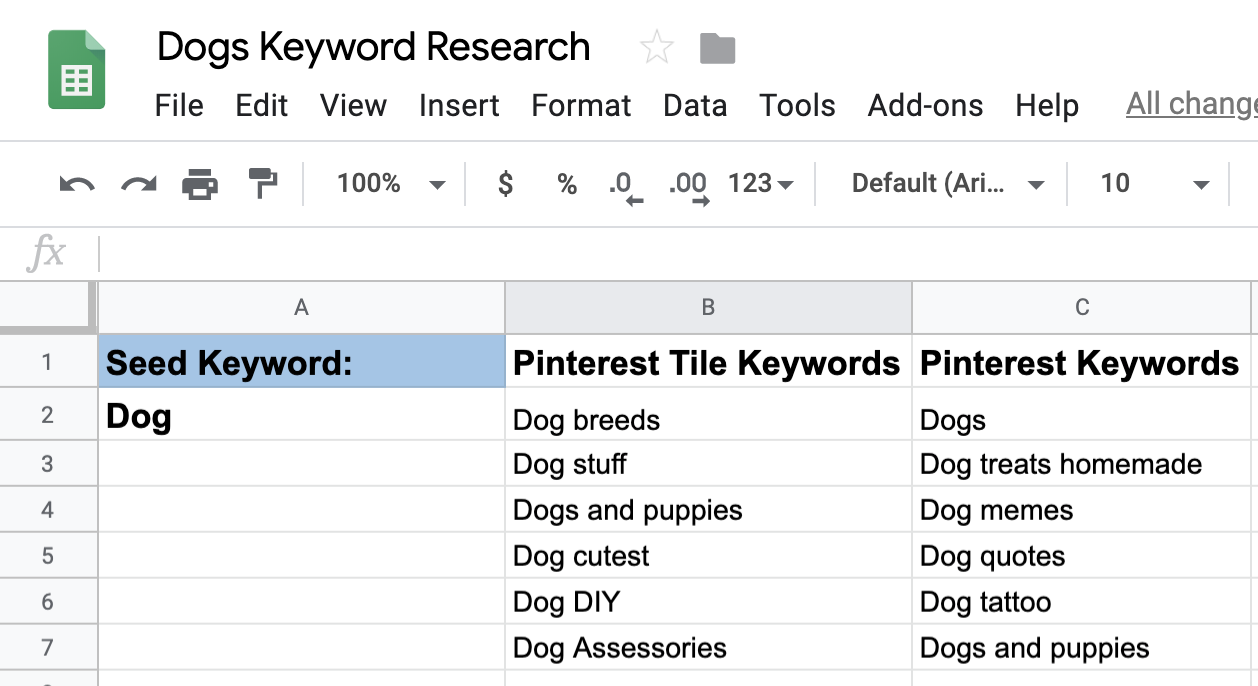 Return to the Search Bar, enter your secondary keywords and repeat the same steps, adding keywords to your spreadsheet as you go.
Pinterest Keyword Research Using The ABC Method
If you want to take your Pinterest keyword research a step further, try the ABC research method. This method is super simple but can be a bit tedious. However, doing this research at the start will save you loads of time later so it will pay off.
Enter your primary keyword in the Pinterest Search Bar once again. This time enter a space and add the letter "a."
Return to your spreadsheet and record any keywords + words that start with "a" that were suggested by Pinterest.
Repeat by adding "b" then "c" and so on.
Choose a handful of secondary keywords (or as many as you have time to research) and repeat the ABC research process.
Soon you'll have a large list of keywords to refer to and can use for the following…
writing blog posts

creating pin text overlays

writing pin descriptions

creating board titles

drafting board descriptions

and more
If you will be doing a lot of keyword research on Pinterest, check out the Pin Inspector Research Tool. Pin Inspector has 6 powerful built-in tools that help you quickly uncover hidden high-converting pins, boards, idea pins, videos, ads and top trending searches on the platform. Once you learn the tool it's a huge time saver for just about everything you need to do when marketing on Pinterest.
Pin Inspector and the Pinning Pro Pinterest Tracker will quickly and efficiently help you lay a solid foundation for driving high volumes of targeted traffic to your website, blog and / or products.

Ready for the next step?
Follow these monthly steps to grow your Pinterest account.
Then take things to the next level by taking the Pinterest Traffic Avalanche course to get even more traffic.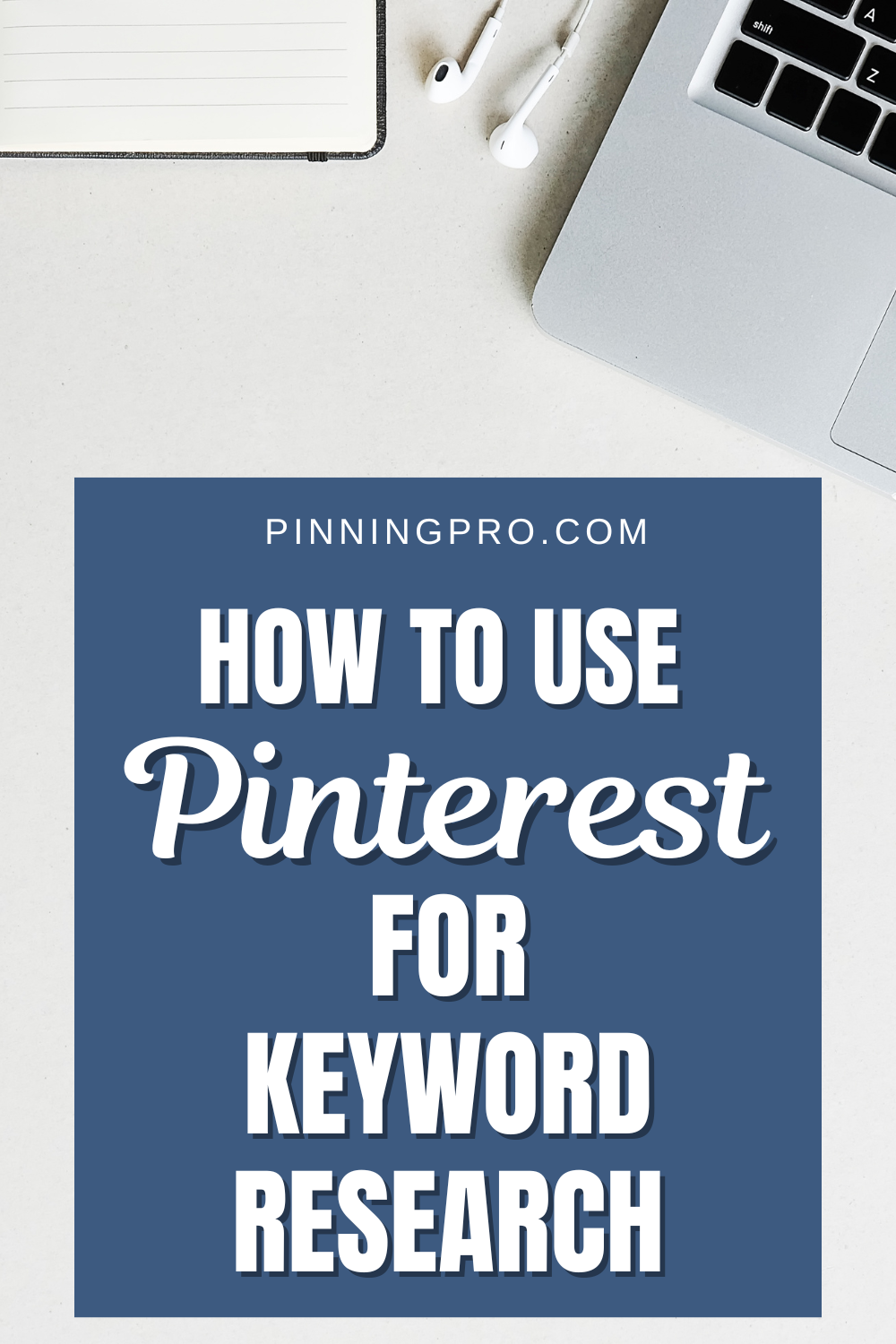 The more saves your pins get the more they will be served up to other audiences looking for related information on Pinterest.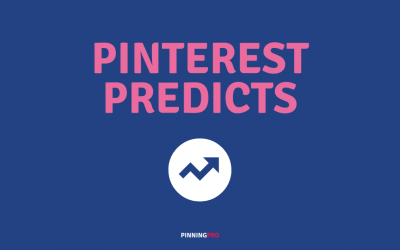 Pinterest Predicts research is based on in-depth search data and extensive analysis of user behavior and engagement. See what they're saying about 2023.
Use these practical, time saving tips for Pinterest marketers to help manage your account efficiently and effectively to grow your business.