Marketing on Pinterest is perfect for travel bloggers
More and more people are traveling again. And prior to the global health crisis, international travel had more than doubled in the previous two decades! As technology advances, especially in the transportation and media sectors, the world appears "smaller" and more accessible. It's exciting to be returning to traveling again.

As once-and-soon-to-be-again avid travelers ourselves, this really excites us, both personally and professionally.
If you're a travel blogger or business, you're always seeking out fresh ways to stand out from the industry crowd. It's been years since Facebook Pages provided good engagement with followers. Instagram, more and more, is limiting reach for brands, unless they opt to "pay to play." Snapchat is cool, but by its nature, is geared toward connecting with people and brands you already know, not discovering new ones. TikTok is the latest player in the social media world and if you're into creating short form video, can be an asset to your travel business, too.
You might be unsure that Pinterest is worth the effort, but we think we can change your mind about that.

First of all, sometimes statistics are boring, but we get pretty excited about these kinds of numbers:

450 million people use Pinterest each month, a third of which are Americans. That number goes up every year.


High income and educated households are twice as likely to use Pinterest as other groups.

85% of female users are on Pinterest to plan "life moments." Which is awesome because…

according to comScore, almost 50% of US travel pinners are seeking ideas to plan their next trip.
And let's not forget…people use Pinterest when they're in a buying mood. 80% of those pinners looking for travel ideas will make a purchase!
Secondly, Pinterest itself sees big value in the travel niche, too, and prior to Covid shared that search terms or keywords like:
Less traveled islands
Bike tours
Zero-waste travel
Rio de Janeiro
Small town travel
We're seeing HUGE jumps in search activity over the previous year. No matter what travel niche you target, we're sure you can find a way to work one of those keywords into your site.
(Reference: https://business.pinterest.com/insights/new-travel-audiences/
Thirdly, since Pinterest is a visual platform, striking travel imagery and colorful graphics just go together, which is perfect for promoting your brand. Couple great pics with solid, value-driven content to create eye-catching pins that users can either bookmark or save to their boards or click-through straight to your site.
You'll often see higher and longer engagement from pinners than you will from your Instagram or Facebook followers because Pinterest isn't only about "now." Pinners are thinking, dreaming, planning, and searching for the future. The shelf life of a pin? 3.5 months of active engagement.
Let's review a few of the travel keywords trending in February:
Italian summer

Alaskan cruise

Summer camp

Summer vacation
As you can see, people are searching for summer plans during the winter months.
Some other tips to strengthen your marketing strategy as a travel blogger:
Remember that Pinterest users are looking for solutions and inspiration. Show them how to find the best croissants in Paris or inspire them to explore a city they've never heard about. 
Do your keyword research. Knowing what search terms people use to find content in your niche is crucial.
Stay on top of fads and seasonal trends. Get ahead of the competition by pinning your summer vacation content in February and March, for example.
Your pins must include fabulous photos. Use free photo sites like Unsplash and Pixabay if your own photos aren't strong enough for Pinterest. Canva, which is also our favorite tool for designing pins, has a great repository of images.
Find other ways to create visual content for Pinterest. Maps, infographics, videos, quotes, checklist, etc. are all smart ways to share your content in new ways.
Take a course. We love Pinterest Traffic Avalanche and Alex and Lauren, the course creators, have explored the world as digital nomads building their online business.
Clearly, Pinterest and travel make for a great partnership. People are already on the platform, using it to discover new places, new ideas, new products to help them make their travel plans and dreams a reality. And every year, the site is seeing more and more growth, not just in the US, but internationally, too.
Your audience is on Pinterest and these tips will help you find them.
The more saves your pins get the more they will be served up to other audiences looking for related information on Pinterest.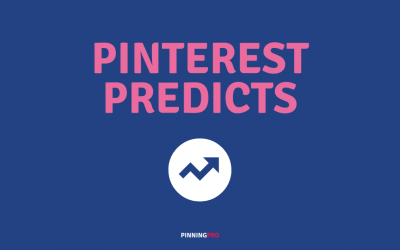 Pinterest Predicts research is based on in-depth search data and extensive analysis of user behavior and engagement. See what they're saying about 2023.
Use these practical, time saving tips for Pinterest marketers to help manage your account efficiently and effectively to grow your business.