Using the Power of Pinterest to Grow Your Photography Business
Pinterest for photographers is a smart marketing strategy for attracting people to your photography business website. Pinterest's visual and search features make it an ideal platform for creative businesses. But it can be tricky to target the right photography-related keywords in order to be found by prospective clients.
If you're a photographer who is considering using Pinterest to market your business, this article will help get you off and running.
Pinterest for Photographers – Keywords
Before we get started, make a list of your top business keywords. What keywords are you targeting already on your website or blog? Look at your categories, blog posts and how you describe the type of photography you do. These might be…
Adventure
Baby
Black & White
Destination
Event
Fashion
Film
Food
Landscape
Nature
Night
Portrait
Real Estate
Sports
Travel
Wedding
Add your secondary keywords which will include your business name and target location (unless you do sessions anywhere).
Pinterest for Photograhers – Research
Next, login to your personal Pinterest account and spend some time doing keyword searches and scrolling as you normally would – only this time pretend you're a prospective client looking for your business.
As you enter the keywords you wrote down above in Pinterest Search, you'll notice that Pinterest offers a list of suggested keywords in a drop down (similar to Google). You might also see keyword bubbles beneath the search bar. These are the most commonly searched for keywords on Pinterest currently, related to the first keyword you entered. Write down the ones that make sense for your business.
You'll likely notice a few things right away. Many searches using the keyword photographer bring back results related to running a photography business. These results might include helpful information to you the photographer, but they won't help prospective photography clients find your business! See the difference? You have to think like the prospective client and how they would search in order to find you on Pinterest.
Clients often start by looking for photographers in a specific location, for a specific reason (i.e., wedding) or even by name.
Here are some examples to illustrate. Enter the word photographer in Pinterest's search bar and you might see secondary keywords like…
aesthetic
branding
camera
equipment
logo
outfit
These keywords won't help people find your business.
Affiliate Disclaimer: This post contains affiliate links where we earn a commission if you sign up through them. However this in no way affects our recommendation. We actually all use the products, services, and courses we recommend.
Here are some examples of how prospective clients might search…
black and white
destination
elegant
elopement
location (Phoenix | Dallas | Etc.) wedding photographer
luxury
[name of person] photography (i.e., Joseph Clark Photography)
portrait
photographer in mountains
Also pay attention to text overlays you see on the top pins that are returned for various searches. There will be a lot of clues there as well. Write these down in this handy keyword planning guide.
Pinterest Trends Tool for Trending Keywords
You can also quickly check for potential trending keywords using Pinterest's Trends Tool. Make notes about what you discover.
Pinterest for Photographers – Business Account
Now that you have a good list of keywords to use for marketing your photography business on Pinterest, it's time to set up a business account.
If you already have a personal Pinterest account, you'll need to decide if you want to convert it to a business account and make your personal boards secret (still viewable to you but not to the public).
Or, you can keep your personal Pinterest account totally separate and simply start a new Pinterest business account for your business. Either way, you'll definitely need a business account which includes tools like analytics and ads.
Once you have your account opened and your profile optimized with your business username, branding, photo or logo, keywords and have claimed your domain, it's time to set up your boards.
Set Up Your Boards
Using your keyword list, decide on 4-6 board topics using your most important keywords as the board names.
Click on the Saved button and then click the + on the right and choose Create Board.
Name your first board and click Create. Pinterest will suggest saving other pins related to the name of your board. Skip this step, set your board to Secret and click Done.
Click the (…) at the top and choose Edit. Fill in a keyword-rich description. Be sure it reads naturally – you don't want to "stuff" keywords in as tempting as it might be. Here is an example of a description for a board that a location based wedding photographer might use.
Arizona photographer offering engagement, bridal and wedding photography services in the beautiful Southwest. Discover ideas for scenic desert and mountain venues for your memorable wedding day. Digital, film and black and white wedding photography. Find me on IG @instagram-name too.
Once you've added the description, click Done. Set up several more boards.
Create Your First Pins
Now you're ready to create some pins. At first create them in Pinterest or Canva (unless you are proficient in Photoshop and prefer to design them there). The images you use in your pins should be high quality – even more so than other niches since your business is all about quality images!
Use this helpful Pinterest image guide which includes the correct image sizes to use on this platform (different than for IG and FB) as well as best practices for creating static, video and idea pins.
In Pinterest, go to the Create tab (currently at the top) select Pins and follow the prompts. Add a vertical image, title, description (be sure to include your location), Alt Text (describe the image) and URL (currently called "destination link").
Note: a lot of photographers don't like using text overlays on their pins. It's understandable if you don't want to cover up your beautiful images. That said, text overlays can be useful for telling people what the pin is about and entice them to click through with a CTA. If you still choose not to use text overlays, be sure to use a well keyworded description so your pins will be found in search.
Choose to publish immediately or at a later date. Select the board the pin will go to and publish or schedule.
Once you have 3-4 pins on your boards, go back to make them Public (if they're still set to Secret).
To speed up pin designing use inexpensive pin templates or still-very-affordable pin templates. Simply swap out your own images, fonts and branding on the templates. Templates can be used for creating pins in Canva and Photoshop.
Pinterest for Photographers – Strategy
Now that you're more experienced with using Pinterest, think about what you want your goals to be for using the platform – beside the obvious. Sure you want to attract more prospective clients to your business. But do you also want to increase email signups? Get people to read your blog posts? Buy your photography related products?
Get real clear on what your reasons are for marketing your business on Pinterest. This will help you when it comes time to review your analytics to see what is working and what needs modifying.
Pinterest for Photographers – Tasks
Tasks are the things you'll do regularly and consistently on Pinterest to grow your traffic and reach the other goals you clarified as part of your overall strategy for using Pinterest for your business. These will vary depending on how often you publish new content to create pins and possibly new boards for.
Consistently do these 7 monthly tasks to grow your Pinterest account to attract visitors to your website or blog.
Pinterest for Photographers WrapUp
We hope this article is helpful in getting you started using Pinterest for your photography business. Of course there is so much more you can do to up your marketing game on the platform. Visit our Pinterest Resources section for next level Pinterest marketing educational tools, apps, courses and other resources.
Pinterst Pin Templates for Service Sellers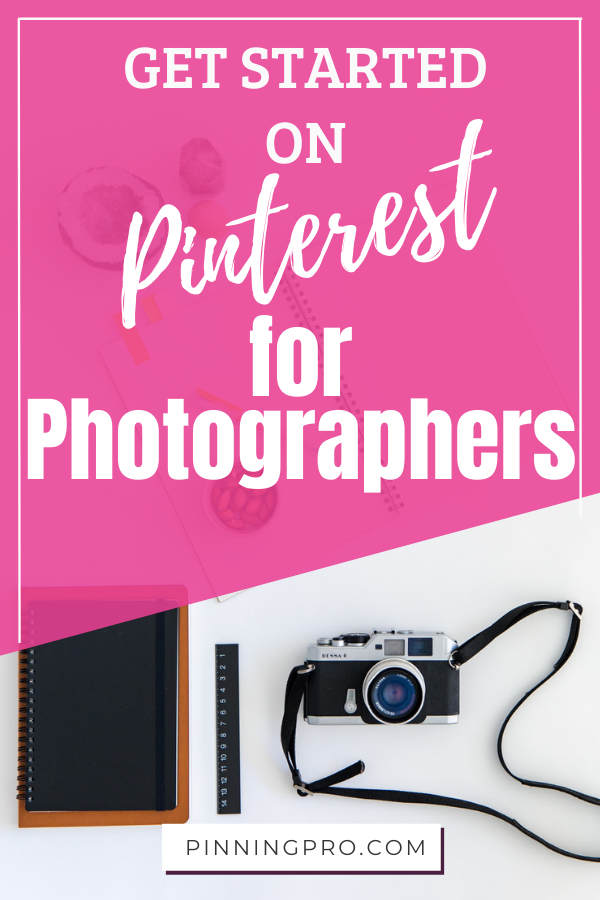 The more saves your pins get the more they will be served up to other audiences looking for related information on Pinterest.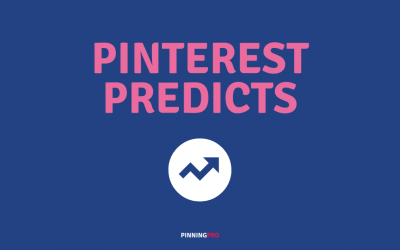 Pinterest Predicts research is based on in-depth search data and extensive analysis of user behavior and engagement. See what they're saying about 2023.
Use these practical, time saving tips for Pinterest marketers to help manage your account efficiently and effectively to grow your business.