When and How To Review Your Pinterest Account
Doing a Pinterest Audit is a great way to uncover areas in your Pinterest marketing that you can improve on, especially if results haven't been as good as you hoped. Similar to any kind of audit, a Pinterest audit is a complete review of everything that makes up your Pinterest business page, including…
Profile and branding
Boards and Descriptions
Group Boards
Pin Images, Text Overlays and Design
Pin Titles / Descriptions
CTAs (Calls To Action)
Video and Idea Pins
SEO practices / use of targeted keywords
Code optimizing (i.e., site verification, rich pins)
Impressions, Clicks and Saves
Number of Followers
Strategy
A Pinterest audit doesn't need to take several hours. In fact, you can probably do one in 30-60 minutes. It's what you implement after learning from the audit that will take some time.
Affiliate Disclaimer: This post may contain affiliate links where we earn a commission if you sign up through them. However this in no way affects our recommendation. We actually all use the products, services, and courses we recommend.
When should you do a Pinterest audit and how often?
If you haven't marketed on Pinterest for a while, a lot has changed. Definitely do an audit if this is your situation.
If your Pinterest strategy isn't working, find out why by auditing so you can adjust your strategy and improve your results.
If you need to develop a whole new strategy for whatever reason (i.e., pivoting your business or products) do an audit first.
Whether you are a blogger, small business owner, newer or more established, periodic audits will help you stay current and make any changes necessary for continuous growth on the platform.
Profile and Branding
The first step in your Pinterest audit is to go to your profile and take a look at your cover. The cover is made up of your pins (by default). Do you like how it looks? If you'd like to change it, click on the pencil icon and upload a video or an image of your choice.
Next, look at your profile image (the small circle with either your photo or your business logo). Pinterest has moved the profile image into the bottom of the cover. Is the image sharp and clear? For some, the profile image gets lost in the cover. Consider putting a border around it to help make it pop more.
Now review your profile text. Is your website or blog showing as verified / claimed? Hover over the globe icon to see if there is a checkmark. If there is no checkmark, you'll need to claim your domain (do this in Settings). Does your description give a clear and concise overview of your business? Does it include your most targeted keyword? If not, edit it accordingly.
Audit Your Boards & Descriptions
Now it's time to review your boards. The main elements to review are the titles and descriptions. Board titles should include a keyword that's relevant to your business. Board descriptions need to be keyword rich and clearly explain what the board is about and what kind of pins visitors can expect to find.
Do you have any boards that no longer fit your business? Perhaps you had a board that was all about a particular product that has been discontinued. Or board about a trend that isn't as popular as it once was. Move any boards that are no longer relevant to your business to Secret – or Archive them.
Get a more detailed process for cleaning up your boards when you have a lot of them.
Need to improve your board descriptions? Learn how to write effective board descriptions here.
Group Boards
For the most part, group boards are not as effective as they once were. Pinning to your own boards will serve your account better this year. With this in mind, take a look at your Pinterest and Google analytics. Also look at your board metrics in your scheduling app (like Tailwind or SEMRush) if you use one. Sort the data so you're only looking at group boards. Leave any group boards that are not performing (getting clicks or saves).
Pin Images and Design
Take a hard look at your pin images and designs. Are they starting to look a little too similar? Or are you happy with how they look? If you are using text overlays, are you using the right keywords? Are your pins branded for your business with consistent colors, logo or domain url?
Now for the real test, see how your pins are doing in analytics. Are the fresh pins you've saved in the past 30 days getting an increasing number of impressions, click-throughs and saves? If so, make more pins that are similar to these. But not too similar! Use a varitey of pin templates to keep them interesting.
If your pins are not getting engagement, study them and ask yourself what you could try improving on when creating new pins to help them capture your audience's attention better.
Need some idea pin design help? Check out Simple Pin Media's Idea Pin Workshop.
Pin Titles / Descriptions
Pin titles and descriptions need to be SEO'd in order to have a good chance of being found in Pinterest Search. Make sure your pins have a relevant keyword in the title. Descriptions need to be keyword rich. With up to 500 characters for descriptions, you have plenty of room to write a natural sounding description that includes a primary keyword for that particular pin as well as several related keywords. Do this for every pin you make.
A great way to write keyword rich descriptions is to use pin description prompts.
CTAs (Calls To Action)
Not all pins need to have a Call To Action but CTAs can make a difference on click throughs. Take a look at your pins now and ask yourself "would someone know how to take action from this pin?" Try to think creatively when using CTAs. Avoid using "Click Here." Instead, try using arrows that indicate clicking, or words like "Discover" or "Explore" that work with the text overlay but are more unique than "Click Here."
Video and Idea Pins
Take a look at any video and idea pins you've saved in the past 30 days. Do you see any room for improvement for when you make more? If you don't have any idea pins yet, it's time to make some. Pinterest wants a diversified set of pins from businesses now. Your strategy will need to include static, video and idea pins.
Learn all the ins and outs of creating idea pins for your business in this Idea Pin Workshop.
If you are already using video and idea pins, look at how they are performing in your analytics. Are people engaging with them? Clicking, saving, commenting? Following your account? What could you do differently or better when you make new ones?
SEO Practices And Use Of Targeted Keywords
Since Pinterest is a search and discovery platform, keywords are just as important as they are on Google (and other search engines). Many Pinterest experts call this "Pinterest SEO." We talked above about checking that you're using targeted keywords in your pins, titles, boards and descriptions. Using the right keywords in all these places is just as important as the images themselves.
People find pins (and therefore your business) by scrolling and searching. Beautiful, helpful, eye-catching pins will cause them to discover you. Keywords will help them find you when doing keyword searches.
If you aren't sure how to do keyword research specifically for Pinterest, learn how in our how to do keyword research blog post.
Optimizing Your Pinterest Account and Website / Blog
"Optimizing" isn't as technical as it sounds and it's definitely important. As we covered the importance of verifying your site or blog in the profile section above. Do make sure your website or blog URL is verified. Instructions for how to do so are in your settings under "claim site."
If you haven't applied for Rich Pins, yet, do that now too. Rich Pins automatically sync information from your site or blog to your pins on Pinterest. They include extra information above and below an image when you view it in closeup. You'll also see a boldened title on pins in your feed. If any info changes on your blog or site, Rich Pins update to reflect the changes. Rich Pins are free and are available to all Pinterest users.
Don't forget about optimizing your site / blog too. Make sure you have social sharing buttons and / or use a Follow Us On Pinterest widget like MiloTree.
Impressions, Clicks and Saves
While doing your Pinterest audit you'll want to use both Pinterest analytics and Google analytics to see what pins are getting the most impressions, clicks and saves. Avoid getting overwhelmed by simply looking at pins you've designed and saved over the past 30 days.
No need to get too granular. Just make observations that will help guide you on what types of pins to make for future content. Take note of colors and whether they have text overlays and CTAs or not. Are static, video or idea pins performing best? Are the pins doing best all well keyworded and saved to closely related boards? Take notes on what you uncover.
Number of Followers
The number of followers you have on Pinterest are not as important as they are on other popular social media platforms. And they are harder to increase. But… that is changing so in your audit give some consideration to how you can start to (or continue to) build followers.
Historically, a very high percentage of searches on Pinterest have not been for specific brands. People on Pinterest tend not to be loyal to brands or businesses. They're typically more interested in finding pins to inspire them, help them dream, plan, do or go out and try something new.
As mentioned, growing followers on Pinterest can be challenging. A few ways to do so and to add to your improved or new strategy after you complete your audit are…
Add a follower growth widget like Milo Tree to your site or blog
Ask for a follow more often
Invite your email list to follow you
Add Idea Pins to your marketing mix
Strategy
Improving or developing a new strategy for better growth is the primary reason for doing a Pinterest audit. With all the information and insights you've gathered, you can now make sure you are utilizing every possible opportunity for growth.
From optimizing your profile and branding, SEOing pins and boards, adding CTAs, introducing video and idea pins, reviewing what is going well and what isn't and thinking about what you can do to increase your followers, you are much better positioned to reach your marketing goals for using Pinterest for your business.
We recommend doing a Pinterest audit annually. You can also consider hiring a Pinterest Expert or a Pinterest Virtual Assistant to do one for you. Google "Pinterest audit" and find a reputable expert / PVA who offers Pinterest auditing / account review services.
The more saves your pins get the more they will be served up to other audiences looking for related information on Pinterest.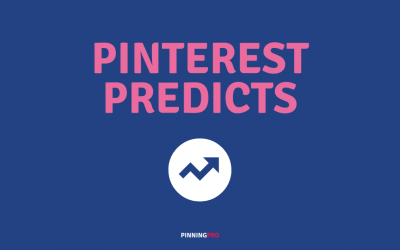 Pinterest Predicts research is based on in-depth search data and extensive analysis of user behavior and engagement. See what they're saying about 2023.
Use these practical, time saving tips for Pinterest marketers to help manage your account efficiently and effectively to grow your business.