Pinterest Affiliate Marketing
Affiliate Disclaimer: This post contains affiliate links where we earn a commission if you sign up through them. However this in no way affects our recommendation. We actually all use the products, services, and courses we recommend.
When doing Pinterest affiliate marketing, it's super important to do it correctly to avoid being penalized for using affiliate links when they aren't allowed – either by the affiliate program or by Pinterest. 
For those that don't know, affiliate marketing is recommending other people's products (or services) on your blog or website using a special affiliate tracking link – and then earning commissions on sales from people who have clicked through your affiliate link and made a purchase.
Some affiliate programs allow affiliate links to be used on Pinterest. Other programs are unclear about it and still, others do not allow it at all. It's critical to read the Terms of Service (TOS) for each program you promote in order to stay compliant. If the program's TOS isn't clear about whether or not it allows affiliate links on Pinterest, we suggest you email the affiliate program directly for clarification.
Pinterest Search And Why SEO Is Important
Pinterest is a great platform for generating traffic to your blog because it's search-based. You'll want to optimize all aspects of your Pinterest account for SEO by using researched keywords in your profile, boards and pin descriptions. Then, when people search for those keywords, your pins will start showing up in Pinterest's search results. These keywords can also be directly or indirectly related to any affiliate products you might be promoting. 
This image-based search engine is also ideal for doing Pinterest affiliate marketing. But it's not as fast and easy to do affiliate marketing on Pinterest as it might seem. As mentioned previously, some affiliate program's TOS allow you to create pins that direct-link to affiliate products but… they are unlikely to convert. Why? Because you're marketing to a cold audience.
Direct Linking To Affiliate Products vs Blog Post Recommendations
Let's take a look at two different affiliate marketing approaches to using Pinterest to sell affiliate products.
1) Pinterest → direct link to affiliate product/service/course → sale → commission
Let's say you are a blogger whose blog is about minimalism. You need a new backpack for yourself, research like crazy and find what you consider to be the perfect one. After using it for a week you decide you love it so much that you want to recommend it to others on Pinterest using your affiliate link. You check the affiliate program of the company who sells it and they do allow affiliate links to be used on Pinterest pins, which in turn direct-link to the product when someone clicks on your pin. 
So you join their affiliate program and take some lifestyle photos of your friend wearing your new backpack. You hop on over to Canva, design a few pins with the keyword-rich text overlay "best minimalist backpack." write your SEO pin description, add your affiliate link and schedule your pins using Tailwind to the most relevant boards.
Before long, your pins start showing up in the Pinterest feed when people search using the keyword "minimalist backpack." Great!
Not really.
A pinner doing this particular keyword search finds one of your pins, click on it and is immediately taken to a sales page.
Hmmmm she thinks… "I'm not ready to buy yet! I just started looking at these."
Maybe she will pin it to a personal board, but more than likely she'll just keep on looking through more pins.
2) Pinterest → blog post → affiliate product/service/course → sale → commission
The same pinner clicks on another pin and is taken to a blog post that is all about minimalist backpacks. The post covers those that are best for travel vs hiking, info about laptop compartments, number of sections, strap paddings, weight, etc.
The pinner may still not be ready to buy, but she now has developed some trust in this very helpful blogger (blogger #2). She reads about his most recommended packs, likes what she sees and pins the image from the blog post to one of her personal boards. Chances are when she's ready to purchase, she'll come back to her board, find the pin and click through it to purchase. Blogger #2 makes a sale.
So what's the difference here?

The first blogger didn't do anything to help someone searching for minimalist backpacks and is attempting to make a sale directly from a pin. In old school marketing-speak, this is called cold selling. Sure, it's faster and easier to do, but a pin in and of itself is pretty unlikely to lead to an immediate affiliate sale. There is no trust built when using this approach.
The second blogger is attempting to build trust, provide useful, helpful information, make comparisons for you, share pros and cons, cost comparisons and basically do a lot of the research legwork for you. All the work he's done saves you lots of time and helps you make the best choice.
Blogger #1 is attempting to make a sale with little effort. She might make some sales this way but there is no long-term strategy.
Blogger #2 is building a long-term Pinterest affiliate marketing strategy – and – a relationship with you. Once the pinner purchases this blogger's top recommendation, chances are, they'll visit that blog again the next time they're looking for other minimalist products and information. Now they've become a repeat customer.
Pinterest Affiliate Marketing Wrap Up
The biggest takeaway we hope you see from our two hypothetical bloggers is if you are going to do Pinterest affiliate marketing, use your eye-catching pins to direct people to your website or blog. Once there, they are your captive audience. Not only can you now build trust with your helpful high-value content but you can also recommend multiple affiliate products or services or even your own products. 
They might also sign up for your email list, read other pages or posts and visit your social media platforms. That's a lot more opportunity for you and your business than if you had sent a pinner directly to a product from Pinterest where chances are high they would have moved on quickly. 
The more saves your pins get the more they will be served up to other audiences looking for related information on Pinterest.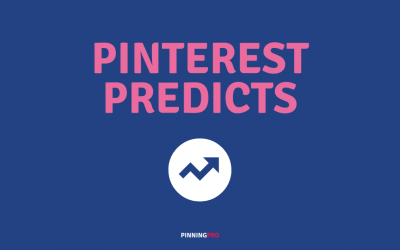 Pinterest Predicts research is based on in-depth search data and extensive analysis of user behavior and engagement. See what they're saying about 2023.
Use these practical, time saving tips for Pinterest marketers to help manage your account efficiently and effectively to grow your business.