Pinterest Growth Strategy to Boost Your Account
Consistently do these monthly tasks to grow your Pinterest account and you'll drive tons of traffic to your website or blog and increase your email list.
In order to grow your Pinterest account you need to be active on the platform every single day. This does not mean you have to actually work on Pinterest everyday though. With a little advance preparation using a pin scheduling automation tool, you can be consistently active on Pinterest without actually doing manual work every day.
Affiliate Disclaimer: This post contains affiliate links where we earn a commission if you sign up through them. However this in no way affects our recommendation. We actually all use the products, services, and courses we recommend.
1) Pin Consistently
Content publishing will need to be a big part of your overall business marketing plan so you'll have fresh information to pin to Pinterest.
Use pin templates to speed up pin design. Pin templates are available from a wide variety of sources from Canva to independent Pinterest account managers who offer them.
Levee Road Studios also offers 10 Canva Pin Templates and 50 Pin Templates + Canva Design Hacks. Or do a Google search for other niche specific pin template options.
Create a few pins for every new blog post you publish. Pin one of the pins directly from your post to your most relevant Pinterest board. If you don't have a board that is closely related to your pin, create a new board.
A part of pinning consistently includes making sure you use keywords that have to do with the blog post in your board and pin descriptions so that they will show up in Pinterest search results. That way when people search on Pinterest for the topic of your post, your pin will be displayed along with other pins about the same topic.
This does not mean you need to create a new blog post every day to be consistent on Pinterest! Whether you publish a new post daily, weekly or monthly, try to do so with consistency and then pin with consistency as well.
Add the other pins you created for a new post to your social media plugin so people who use the Pinterest or Tailwind extension for pinning can choose the pin they like best to save to their own boards.
To keep "feeding" Pinterest with pins, create fresh pins for older blog posts but do this carefully and space them out.
Scheduling and Curating Pins
Using a scheduling tool like Tailwind to help with consistent pinning makes this so much easier and allows you to schedule pins in batches only a few times per month. One of the features we love about Tailwind is its "Smart Guide" which alerts you if you have pinned the same pin too recently for Pinterest's preferences.
You can also pin other related, non-competing content although only do so when you really feel the article or page will be something helpful to your readers that you don't already provide.
2) Perform Additional Keyword Research
Make sure you're doing additional keyword research regularly. Seasons, trends, holidays and world events can affect your keyword choices. For example, in 2019 doing a search on Pinterest for "face masks" brought back an entirely different type of results than the same keyword search in mid-2020 (facial related info vs health related).
Keep track of your keywords in a spreadsheet and crosscheck them with the post itself. Use keywords that best match your post as well as semantically related words in your pin and board descriptions. Refer to your spreadsheet anytime you write new ones. To speed up writing descriptions, consider using Pin Description Prompts.
3) Create New Pin Designs for Top Performing Content
Take a look at your most popular pins on Pinterest, using Pinterest Analytics. Leverage your popular content by creating new pin designs in Tailwind Create or another graphic design tool and pin them strategically. Test out using different fonts, colors, or styles or pins to see if you can beat your current pin metrics.
Diversify pins by creating the following types…
Static pins
Idea pins
Infographics (but don't give away too much info – you want them to click through!)
Animated / video pins
Use pin templates to speed up pin design.
4) Review Your Top Boards
Go to the Pinterest Analytics Overview section
Set the date range to the "Last 30 Days"
Set your filters on the left as follows (or tweak these settings if you prefer)…

Organic Pins
All Devices
All Ages
Your PIns

Then look at your Top Boards metrics

Impressions
Outbound Clicks
Saves
Study your top boards and make a note of which ones have been performing the best in the last month. Consider creating fresh content that matches the boards and corresponding pins for the new content you'll be pinning to them. Do this each month paying special attention to boards that could become top boards due to seasonality, special events or holidays.
5) Create New Pinterest Boards
Regularly create new boards about keywords you don't yet have boards for. It's super important that your pins closely match your board titles and descriptions. Clean up your boards once or twice per year using this Pinterest board cleanup tutorial. You can also follow this tutorial to do quick monthly clean ups and get ideas for new boards to create.
6) Follow Other Boards or Accounts Periodically
Pinterest used to reward reciprocation back in the day but not as much anymore. You can still follow other boards, people and accounts if you would like, but it's not as important as it once was. We prefer to follow boards over entire accounts because a board is typically more relevant to our audience than someone's entire account. And that is key. If you're going to follow at all, be sure it's relevant and helpful to your audience. 
7) Monitor Your Analytics
Review your Pinterest and Google analytics each month to make sure your strategy is working and make any necessary adjustments to your monthly tasks to grow your Pinterest account.
For example: if you have tons of impressions on a pin but a very low click rate, try changing up the design on a new pin. Alternatively, if a pin has very low impressions, it's possibly an indicator that you may need to focus more on doing additional keyword research and optimize the pin description better.
The more thought time you put into reviewing how your pins and boards are performing, the more you'll be able to improve your traffic growth from the platform. It's definitely time well spent.
If numbers, metrics and data are not your thing, start by looking at just a few data points like outbound clicks and saves. Add more metrics to review as you grow in your understanding of what they mean and how they can inform any needed tweaks to your monthly tasks and overall pinning plan.
Monthly Tasks To Grow Your Pinterest Account Wrap Up
Growing your Pinterest account takes time and effort. It tends to be a slow-growth platform but over time you'll reap the rewards in the form of increasing organic traffic, email signups and revenue growth. Perform these tasks consistently on a monthly basis to help grow your business.
The more saves your pins get the more they will be served up to other audiences looking for related information on Pinterest.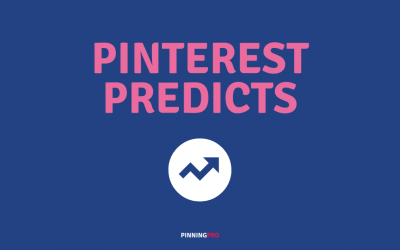 Pinterest Predicts research is based on in-depth search data and extensive analysis of user behavior and engagement. See what they're saying about 2023.
Use these practical, time saving tips for Pinterest marketers to help manage your account efficiently and effectively to grow your business.