Using Pinterest for Your Business
Yes, you can use Pinterest for business! The platform is made for more than storing Thanksgiving stuffing recipes or ideas to spruce up your deck.
But even when you're using it for profession purposes, it's still fun!
Let me tell you a quick story…
Ever had a job or career that you enjoyed so much it hardly felt like work?
I have. Twice.
The first was as manager of a golf club. I mean where else can you work where everyone who is a customer is there to "play"?
Fast forward a decade and I'm now a Pinterest manager working with bloggers and small business owners / entrepreneurs, the majority of whom absolutely love their niche. And all of whom want to know how to use Pinterest for business.
Pinterest + business = fun!
So what's up with all this buzz about Pinterest? For starters…
Pinterest is one of the most positive places to spend time on the internet. Enter a keyword or two into its search function (much like you would on Google) and up pops beautiful images, some with text to tell you what the image is about and all (mostly) leading to content you actually want to read.
Pinterest is a place to go to search, scroll, dream, plan, be inspired and learn.
Pinterest currently has over 433M monthly visitors – who are either searching for something cool – or – serving up something cool to those searching for it. Maybe that's you.
How you use the platform is entirely up to you. Prefer to just enjoy it? Great!
But what if you want to know how to use Pinterest for business, drive traffic to your blog and grow your email list? Read on to learn the best places to find what you are looking for.
I'll share how my team and I got involved in Pinterest marketing and why we believe every business needs to be using this platform to grow. Yes, every business.
Affiliate Disclaimer: This post contains affiliate links where we earn a commission if you sign up through them. However this in no way affects our recommendation. We actually all use the products, services, and courses we recommend.
Where to Learn How To Use Pinterest For Business
On Pinterest! – do some searches on the platform and you'll find a ton of pins (leading to content) that talks about using Pinterest for business. When you click on a pin and go over to a blog post or web page, be sure to check the date of the post. If it wasn't written this year, the info might not be accurate anymore. Pinterest changes all. the. time. It's challenging to keep up with – but we personally find that part fun and stimulating. 🙂
From Us – subscribe to our newsletter and learn from our blog posts which will help you understand how Pinterest works and how it can catapult your business to the next level! Not sure which blog posts to dig into? We suggest you start with these Pinterest posts.
Pinterest Courses – there's no shortage of Pinterest courses and apps out there anymore. When we first started learning about Pinterest, we were fortunate to have found the Pinterest Traffic Avalanche course which set us on a journey that led to creating a business we love. Whether good or not, we also purchased tons of other Pinterest courses. You might say we went a little overboard as "students" or you might say we had a bit of FOMO. Thankfully we learned a ton but we've also found a great alternative to riding the Pinterest course-buying train. More on that in a bit.
Google – search Google just as you would for anything. But again, make sure what you read is current. To do this, use Google's advanced search function and set the date range to get info shared during the current year.
Pinterest-focused Facebook Groups – there are many private Facebook groups that are about Pinterest. Some are for solopreneurs/entrepreneurs learning how to use Pinterest for business. Others are only for folks who are taking someone's specific Pinterest course. And still, others are for Pinterest Virtual Assistants and Managers. Do a search on Facebook and check out which group might be ideal for what specifically you are interested in learning.
So What's the Best Way to Learn How to Use Pinterest for Business?
That depends on your interests and goals. But having done all of the above for several years and taken numerous Pinterest business courses, our number one recommendation is Scheduling Shortcuts along with a membership to the course Facebook Page called The Pinterest Strategy Group.
The primary reasons we recommend this particular course and FB membership are time and relevancy. The course is constantly updated to keep up with Pinterest's rapid pace of changing things. And the group is well moderated.
Scheduling Shortcuts is mis-named in our opinion. Amy (the course creator) just keeps adding more and more high value, quality, helpful content to it, much of which is about so much more than scheduling pins! She is also constantly updating the lessons. And she answers questions in the FB group daily and holds monthly Zoom calls with the group.
Here's why we think this course and FB group are set apart from the others. Amy excels in researching and digging into Pinterest HTML and CSS code. She also spends a lot of time reading the Pinterest Engineering blog to learn the technical parts of how Pinterest ranks pins. She then communicates that information in a way the not-so-technical can understand. For example, she is the only Pinterest expert we've come across who talks about how Pinterest categorizes pins and where to locatee this info, interest targeting, nodes and other little talked about yet super helpful strategies for getting pins to rank better.
Because we've invested a lot of time in learning all things Pinterest, we love to talk about the resources we use and endorse. Recommending Scheduling Shortcuts and its private FB group as our #1 choice does not mean other courses and teachings are not valuable. They are!
But they are also challenging for the course developers to keep up to date. So whatever course or resource you choose to take to advance your business and marketing knowledge about Pinterest, do be sure to check on the sales page and find out how often they're updated. At the very least any Pinterest course should be updated quarterly – with additional updates for major Pinterest changes (like the extensive new analytics interface Pinterest recently rolled out).
Want to learn more about other courses and resources? Check out our The Best Pinterest Courses & Tools for Bloggers & Small Business Owners post.
The more saves your pins get the more they will be served up to other audiences looking for related information on Pinterest.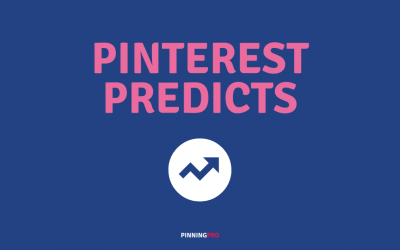 Pinterest Predicts research is based on in-depth search data and extensive analysis of user behavior and engagement. See what they're saying about 2023.
Use these practical, time saving tips for Pinterest marketers to help manage your account efficiently and effectively to grow your business.