How to Use Pinterest Ads the Right Way
If you aren't already using Pinterest ads, known as Promoted Pins, yet to your benefit, we're here to tell you it's time to get on board!
Pinterest's IPO last year signaled rumors that the only way to succeed on Pinterest going forward is by using Promoted Pins.
While other online businesses and entrepreneurs are still fooling around with Facebook and Google Ads, Pinterest's ad program is WIDE OPEN, with low competition and low costs in most niches.
Affiliate Disclaimer: This post contains affiliate links where we earn a commission if you sign up through them. However this in no way affects our recommendation. We actually all use the products, services, and courses we recommend.
It's no secret that many businesses and bloggers are finding great success using ads for a variety of reasons. We have clients using ads to drive traffic to their site to get newsletter signups, others who use Promoted Pins to advertise a product, and others who want to jumpstart a pin's popularity to take advantage of seasonal trends.
Do we think that the only way forward with Pinterest is by spending money on ad campaigns? Nope! There's still a lot of room for marketing your business organically on Pinterest. We use both methods here at Pinning Pro and continue to see the benefits of either strategy.
That said, there definitely is a place for using Promoted Pins in your business – provided you have a budget for them.
It's easy to assume that businesses using Promoted Pins have big budgets and are putting a lot of money into them. But we're finding that's not really the case. This should be good news for you if you're considering them.
The reality is, Promoted Pins are actually low-cost ads that keep on working for you even after you've stopped an ad campaign. This is unheard of on other platforms where when an ad campaign stops, it's over-over.
Additionally, Pinterest recently reported that part of its growth strategy is international expansion and that a whopping 71% of Pinterest's users come from outside the USA. If you are looking for a low cost way to reach an international user base, you may want to consider trying out Promoted Pins.
After a lot of digging, asking questions on private Facebook groups, and reading dozens of blogs, we've discovered several courses by Monica Froese of RedefiningMom that's all about Promoted Pins. Now, don't assume that Redefining Mom is "just another mom blog." Her blog originally started as a resource for teaching busy moms how to start profitable online businesses. Like most businesses online however, her blog has moved in new directions along the way. Monica has clearly found her passion with Pinterest – and more specifically with teaching online entrepreneurs about Promoted Pins. And she rocks it! Monica is a smart cookie and when she discovers a new trick to getting the most out of Promoted Pins, she shares it with her students.
Monica's most sought after course, Pin Practical Promotions, only opens a couple of times per year. It's not cheap but it is super comprehensive and it's one of the programs we use to build a foundation in Pinterest advertising. In the course, she teaches why Promoted Pins are an incredible opportunity for bloggers and small business owners. For example, they…
Can kickstart a pin's popularity

Help build your email list

Increase page views

Drive brand awareness

Increase sales

And are an effective way to promote affiliate products and services
One thing we love about the course is that Monica teaches how to take data from Promoted Pin campaigns and use it to inform your organic Pinterest strategy! Since we mostly offer organic Pinterest marketing services at PinningPro, this lesson was super helpful for us. Some of the ways you can do this include…
Accessing top-performing keyword data and developing organic strategies from it

Tracking the exact amount of email subscribers and sales which informs what works
But back to Promoted Pins for advertising purposes. If you're looking to use them for your business or have a client or employer who wants them implemented, you'll benefit greatly from Pin Practical Promotions. Even better if you can get your client or employer to buy the course for you. 😉
Here are some highlights of what you can expect to learn…
How to set up your Promoted Pin campaigns strategically

How to craft your campaigns so you don't waste money

Detailed examples of how to set up successful Promoted Pin funnels

How to target the right people for your campaign, based on your objectives

How to optimize your website for conversions, including advanced training on installing the right codes in the right places

A detailed breakdown of how to read analytics reports and use them to your advantage
Other things Monica's course covers include…
How the Pinterest algorithm works with Promoted Pins
Hint: Pinterest puts your ad out based on the bid. If your pin gets a good amount of click-throughs, it will be favored for distribution (i.e. in related searches, related pins, smart feed, etc).
How long you should set a campaign for in order to expect results
Hint: 7-14 days
How much do you need to bid to get ads started?
Hint: It's a lot less than you think it will be!
How many keywords should you be using?
Hint: sorry we can't give everything away! But you might be surprised at just how many though!
After doing our research, we found that there aren't very many good resources available that teach how to run successful promoted pins. There's Pinterest's own Promoted Pins tutorials but honestly, we find them rather technical. If you prefer that style of learning, here's where to find Pinterest's own tutorials. The Pin Practical Promotion course, on the other hand, it is very personable, hands on and regularly updated.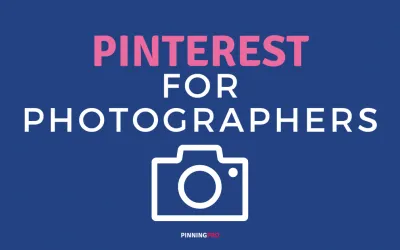 If you have a photography business, Pinterest can be a game changer. Learn strategies to take your business up a notch.
Learn how to understand Pinterest analytics, set filters and review the most important data for informing any changes needed in your Pinterest marketing strategy.
Consistently do these 7 monthly tasks to grow your Pinterest account, drive more traffic to your website or blog and increase your email list.