Pinterest Analytics Explained
If you want to know how to understand Pinterest analytics and are a bit confused, you're not alone. Pinterest has expanded its analytics section considerably since becoming a publicly traded company. There is a ton of data to look at! But don't let that intimidate you. We'll cover the most important metrics to be looking at each month below.
Pinterest is an excellent platform for driving organic (or paid) traffic to your website or blog, but you'll need to understand Pinterest analytics to see what is working and what isn't.
In this article, we'll explain how we set our filters to review analytics for client accounts and what data is most important to look at. We'll also share tips on how to use what you discover to help increase engagement with your pins and boards in order to drive more traffic with them.
Affiliate Disclaimer: This post contains affiliate links where we earn a commission if you sign up through them. However this in no way affects our recommendation. We actually all use the products, services, and courses we recommend.
Google Analytics | Pinterest Analytics | Scheduling Tool Analytics
Google Analytics shows you how people first found your website (i.e.,from Google ads, social media, etc.), what pages they looked at, and how long they stayed on your site.
Pinterest Analytics shows you which pins are getting the most engagement (impressions, outbound clicks, saves), as well as which boards and topics are performing best.
If you use a scheduling app like Tailwind, it's good to review those analytics as well. Tailwind calls their analytics "Insights" and they provide exactly that. They give you an understanding of how your boards and pins are performing across your entire account since you started it. Tailwind Insights also includes virality and engagement scores, original pin dates and more.
Reviewing analytics in 2-3 platforms may seem like a lot, but if you only choose 2-3 data points from each platform to focus on, they won't take long to review. You'll also get a more well-rounded and accurate picture of how your Pinterest strategy is working for you. We only cover Pinterest analytics in this article.
Why Reviewing Your Pinterest Data Matters
Pinterest analytics can tell you which pins and content are performing well and which aren't. You can use that information to inform your plans for:
Content – which themes or topics get the most engagement?
Pin Design – do you notice trends on what colors or designs get the most clicks?
Strategies – if you're trying new things, keeping track of the numbers is crucial to see if what you're testing is working.
Account Growth – overall, you should see upward momentum, though occasional downward trends do happen.
Seasonal holidays and trends – is your "back to school" content taking off in July? Use that information to plan next year's marketing strategy.
How to View Your Pinterest Analytics
Login to your Pinterest account and either go to analytics.pinterest.com or look for the Analytics link at the top of the page.
Select Overview.
Choose your filters. We set our filters as follows…
Date Range – Last 30 Days
Content Type – Organic
Claimed Account – Your Domain
Device – All
Age – All
Gender – All
Source – Your Pins
* you can of course choose other filters and review your analytics in various ways depending on what you are interested in. These filters give us the most important data we need to share with clients whose Pinterest accounts we manage.
Once the filters are selected, you can now choose to look at any or all of the following…
All Pins
Standard Pins
Product Pins
Idea Pins
Video Pins
All Pins
For this example, we will look at data for All Pins.
Scroll down to "Performance over time" and click on the drop down menu arrow. There are a LOT of options! We typically do not look at all the options here. Instead what is most important to us and clients are…
Impressions – gives a general idea whether or not Pinterest is showing your pins in others feeds
Outbound Clicks – these are clicks that actually go to your website, blog or store. This is the most important data we look at because it represents actual traffic
Saves – these are pins people saved to their own boards to come back to later or share with others
Study the graph for a few minutes.
Does it seem like your pins are getting more outbound clicks and saves on weekends? Weekdays? Holidays? Seasons?
Do you find any interesting peaks or perplexing dips? Try to figure out why based on how and when you are pinning. See what you can glean from the graph that could help you make any changes to improve any of your metrics. Take some notes to refer back to later.
Top Boards
Next we'll take a look at Top Boards.
Click on the dropdown menu arrow and you'll see a shorter list of options. These pretty much represent what we look at in the performance section…
Impressions
Engagements
Pin Clicks
Outbound Clicks
Saves
Write down which boards are getting the most engagement in terms of each of the metrics in the list just above. This data provides strong indicators about what type of content is resonating with your audience and what type of content you are being found for on Pinterest. Plan on creating more content, pins and boards on closely related topics.
Watch which Boards show as top boards for the different options. We frequently see that the top boards don't change much when looking at impressions, engagements, pin clicks, outbound clicks or saves in a given month. But they do often change at different times of year.
Top Pins
Scroll down to the Top Pins area next. If you only want to look at new pins in the last 30 days, check that box too.
Note: the filters we chose at the start are set for 30 days but will include pins that were pinned at any point in time.
Now repeat a similar process (as above) looking at the metrics you find useful. At Pinning Pro, we look at all the options here…
Impressions
Engagements
Pin Clicks
Outbound Clicks
Saves
Again, Outbound Clicks are the most important metrics to us because they show which pins are actually driving traffic over to a website or blog. It's a bit cumbersome to dig deep into comparing pin impressions vs outbound clicks but as you do more on Pinterest it might be worth your time to do so.
Pins with high impressions but low clicks could have a design or keyword problem. Pins with low impressions and high clicks could be resonating and you'll want to create similar ones to try and leverage that.
How To Understand Pinterest Analytics – Wrapping Up
There is a lot of data in your Pinterest analytics. And combined with Google Analytics and Tailwind Insights, it can feel like number overload. Our suggestion is to keep it simple and focus on what is most important to you and your business. Use this free Pinterest Metrics Planner to keep track of your most important data each month.
When learning how to understand Pinterest analytics give yourself some time to think. Ask lots of questions like why you're seeing what you're seeing and what could be the reasons or causes (seo, design, etc). Analytics data won't be useful unless you think through it, and draw some conclusions or theories and try testing different strategies the following month.
We recommend using a Pinterest planner so you're pinning for relevant holidays, trends and events along with tracking your stats monthly. Also review your analytics quarterly and perform an account audit annually. Once your Pinterest strategy is pretty solid, then consider reviewing your analytics monthly. Take notes, test out ideas and keep improving. Soon Pinterest could be your second highest traffic generator next to Google.
Courses and Programs we've used and/or recommend for learning more about Pinterest, Google and Tailwind Analytics.
Scheduling Shortcuts [Hacks for the New Pinterest Algorithm]
Constantly updated Pinterest Marketing Course that includes a video module on Understanding Analytics & Tracking Your Growth
Pinterest SEO Traffic Secrets
Comprehensive Pinterest Marketing Course that includes these video modules
The Best Ways to Check your Pinterest Analytics
How to use Google, Pinterest and Tailwind analytics
The more saves your pins get the more they will be served up to other audiences looking for related information on Pinterest.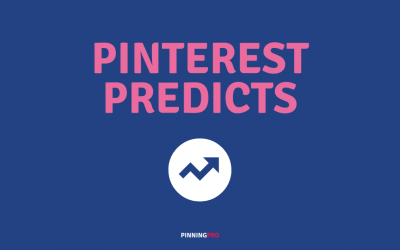 Pinterest Predicts research is based on in-depth search data and extensive analysis of user behavior and engagement. See what they're saying about 2023.
Use these practical, time saving tips for Pinterest marketers to help manage your account efficiently and effectively to grow your business.