Interested in learning how to do Pinterest ads? Many online businesses and bloggers are spending a boatload of money on (low reach) Facebook, Instagram and Google Ads but Pinterest's ad program is WIDE OPEN, with less competition and lower costs in many niches.
Businesses are finding great success advertising on Pinterest for a variety of reasons. 432 million users all looking for ideas, inspiration, things to do, try and buy. Bloggers and businesses use Pinterest ads to drive traffic to their site/blog, increase newsletter signups, advertise a product or service or even to jumpstart a pin's popularity to take advantage of seasonal trends (i.e., Christmas).
Is Pinterest All Pay-To-Play Now?
Do we think that Pinterest has become "pay-to-play" and the only way forward is by spending money doing advertising on Pinterest? Nope! At least not yet. There is still a lot of room for organic marketing on Pinterest. We've used both methods here at Pinning Pro and, depending on the goals, see benefits to each strategy.
That said, there definitely is a place for advertising your business on Pinterest too – provided you become educated on how to do Pinterest ads and have a budget for testing and improving your skills over time.
Affiliate Disclaimer: This post contains affiliate links where we earn a commission if you sign up through them. However this in no way affects our recommendation. We actually all use the products, services, and courses we recommend.
Pinterest Ads Are Affordable
It's easy to assume that businesses using Pinterest ads have big budgets and are putting a lot of money into them. But turns out, that's not necessarily the case. This should be good news for you if you're thinking about testing ads out.
The reality is, Pinterest ads are actually low-cost ads that keep on working for you even after you've stopped an ad campaign. The pins stay on the platform, come up in search and basically function like organic pins. This is unheard of on other platforms where once an ad campaign stops, it's over-over.
A Great Place For Reaching An International Audience
Pinterest has long said that part of its growth strategy is international expansion and that a whopping 80% of Pinterest's users come from outside the USA. If you are looking for a low cost way to reach an international user base, you may want to learn how to do Pinterest ads to grow your business in a cost effective way.
How To Do Pinterest Ads
Once Pinterest became a publicly traded company and their advertising began to take off, we knew it was time for us to learn how to set ads up and manage them. Up until a few years ago, we only did organic Pinterest marketing.
So we did a lot of digging, asking questions on private Facebook groups, and reading dozens of blogs. We also discovered a super helpful course (but the course has since been retired) and now there only seems to be two good options for learning…
1) Pinterest Advertising Help – helpful but a bit technical for "getting started" info. And you start paying for ads as you learn – before you even know what you are doing.
2) The Pinterest Ads Society – a smart way to learn how to do Pinterest ads before spending money on ads. You can try running ads on your own of course, but when you're spending money on advertising, you want to make sure you at least have the foundational elements in place.
The Pinterest Ads Society is a monthly membership that provides a roadmap, training workshops, live Q&As and a forum where you can ask questions. It's only open a few times a year so if it's not open right now, get on the waitlist and grab the free checklist.
Wrapping Up
We strongly encourage learning how to do Pinterest ads by reading the most current information you can find. When doing searches, include the year in your search string. Pinterest is putting a ton of resources into its advertising platform and is changing things all. the. time. Make sure you stay up to date on Pinterest ads TOS the best you can.
Learn more about advertising on Pinterest here.
The more saves your pins get the more they will be served up to other audiences looking for related information on Pinterest.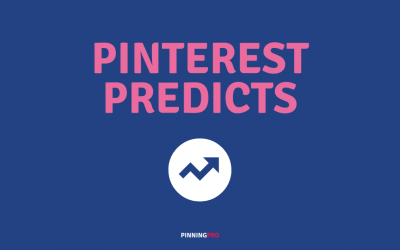 Pinterest Predicts research is based on in-depth search data and extensive analysis of user behavior and engagement. See what they're saying about 2023.
Use these practical, time saving tips for Pinterest marketers to help manage your account efficiently and effectively to grow your business.