Why Do a Pinterest Analysis or Audit?
Conducting a DIY Pinterest analysis on your account is one of the most strategic steps you can take to grow your traffic from this incredible visual search engine. The best part is, you get to use both sides of your brain! First, you'll need to do the Pinterest account audit using the analytical part of your mind, then tap into the creative side of your mind and develop a strategic and visual plan to attract more views, clicks and saves on your pins.
This DIY Pinterest analysis checklist is super easy to follow, even for those of you who would prefer to stay away from numbers and metrics. 😉 And it won't take much time! In fact, we recommend spending no more than one hour reviewing your account and no more than another hour creating a plan for improvement. A two-hour investment of your time can help you…

get more of your pins found in search

increase traffic to your site or blog

increase email signups

reach your other goals for using Pinterest
Review the Basics of How to Do a Pinterest Audit
First, we take you through the basics. Even if you are experienced in marketing your business on Pinterest, there's often something that was inadvertently missed when you got started. Or perhaps Pinterest introduced something new you haven't heard about yet but will help your pin rankings. Pinterest is known for frequent testing and launching of new features.
Affiliate Disclaimer: This post contains affiliate links where we earn a commission if you sign up through them. However this in no way affects our recommendation. We actually all use the products, services, and courses we recommend.
Review Your Pinterest Profile
The first thing we take a look at in the DIY Pinterest analysis is your profile. Creating your profile is pretty straightforward. However, one of the most overlooked things we see with client accounts are a lack of using targeted keywords in the title and description. Pinterest is ALL about keywords and SEO, much like Google. Use keywords and secondary keywords naturally, wherever you can on Pinterest.
For example, which "about you" profile description do you think more accurately tells Pinterest and Pinners what this (fictional) adventure wedding photographer business is all about?
Profile 1
Seasoned photographer who loves capturing unique and timeless images of your once-in-a-lifetime wedding day.
Profile 2
Adventure wedding photographer with a gift for capturing natural, candid images and turning them into a "uniquely you" wedding photo album to treasure for life.
The first profile description could definitely include more targeted keywords. Even the second one could be refined, but it's still much more likely than the first to be understood by the Pinterest algorithm and, just as importantly, by people reading these profiles while searching on Pinterest.
Review Your Boards And The Way You Pin To Them
Boards are the next thing we'll analyze. You'll go through a series of questions to make sure you are maximizing every advantage Pinterest gives you when boards (and pinning to them) are done correctly. Reviewing your boards periodically is so important we wrote an entire post about how to clean up your Pinterest boards, complete with screenshots. 
Put On Your Creative Hat!
Now comes the creative analysis. 🙂 Besides covering the essentials like the recommended pin size ratio, here's where you get to take a step back and look at your pin designs. You'll ask yourself if they really represent your brand. Are you happy with the way they look? Would they catch your eye in a fast-moving feed? How can you make them stand out more? And so on.
Pinterest Pin Before:
Pinterest Pin After:
Take a look at our before and after pin examples. Is your eye drawn to one more than the other? Do you have a clear idea of what either pin is offering? If you were looking for dinner ideas, which would you likely click on?
In our "before" pin, there's a lot going on. You have a cursive font at the top that's hard to read, followed by a large brushstroke for balance and then a free offering. It's hard to know where you're supposed to look first. And even harder to know what it is you're getting for free.
In our "after" pin, we've kept the branded colors the same, but found a more pleasing way to draw the viewer's eye. Not only did we make sure to get a searchable keyword in the text overlay ("easy weeknight recipes"), but we also made a point of telling users exactly what the freebie is!
All of the steps so far in your DIY Pinterest analysis have led to this point – reviewing or creating a new pinning plan!
Time To Plan
Pinterest has clearly stated that its algorithm rewards consistency. This does not mean you need to spend hours every day pinning tons of pins! Each and every business is unique and pinning plans need to match your goals for using Pinterest. You'll be making decisions like…
how many pins should I pin daily and why?
should I pin only my pins or other people's pins too, and why?
are the Group Boards and Tailwind Communities I'm in helping or hurting?
what are the 3 most important metrics to pay attention to for my business?
Next Steps
Finally, it's time for the "next steps." You've completed your DIY Pinterest analysis checklist and can see what you're doing well and where you could improve. The checklist was created to help simplify getting to your "what's next" and bring to the surface how to get even better results on Pinterest!
Recommended Time Commitment
Pinterest analysis using the checklist = 1 hour
Developing a Pinterest strategy and plan from your analysis results = 1 hour
An investment of only two hours can set you on a course for a dramatic increase in reaching your goals on Pinterest – whether that is to drive more traffic to your site, blog, and products, grow your email list, or any other goal that makes sense for this powerful visual search platform.
The more saves your pins get the more they will be served up to other audiences looking for related information on Pinterest.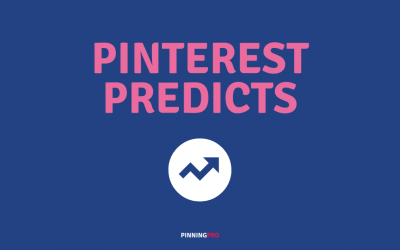 Pinterest Predicts research is based on in-depth search data and extensive analysis of user behavior and engagement. See what they're saying about 2023.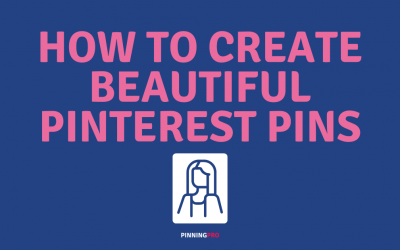 Pinterest is alllll about the pins. Every pin includes an image (or video), text overlay (not required but the majority of pins have one), a title, description and a link to your website, blog or online store.