Designing Pinterest Pins that Get Clicked
Create Pinterest pins that grab people's attention and cause their feed to come to a screeching halt. And design those pins in such a way that compels pinners to click over to your website or blog. That's the goal anyway – but it's not as easy as it looks. Creating effective pins requires some preparation work. Let's break it down in simple steps.
Are You Sharing Content or a Product?
Decide which page, blog post or product your first pin is going to go to.
Will You Use Text Overlays?
Decide if you're going to have words (aka text overlay) on your pins. If yes, do a little keyword research to determine the best keyword or keyphrase that matches the content or product your pin will link to. If you aren't going to be adding text to your pins, skip down to branding.
Use a Design App to Create Pins Easily
There are many graphic design apps to choose from. One of the most popular among Pinterest marketers is Tailwind Create. If you don't have an app for designing and creating pins with yet, try either of these out using the free trial versions to see which you prefer.
Choose Images that Pop
Search your design app or a stock photo site (free or paid) for an image that reflects the content or product and text overlay. Images should visually relate whatever the pin text overlay says. So if your image is about golf lessons, for example, use an image that is golf related.
Pins that get noticed in the feed have a balanced design, complementary colors and text that "sells." You can write the best pin descriptions in the world (more on this below), but if your pins aren't eye-catching, they'll get lost in the sea of Pinterest search results.
Don't Forget the Branding
Add your business brand elements – logo, website url, colors.
Write Great Pin Descriptions
Descriptions are your opportunity to use keywords and interesting text to tell the pinner more about the helpful content or product the pin links to. They also help the Pinterest algorithm understand what the pin is about so it can categorize the interest category to help it be found when people are searching for your information.
Learn more about Interest Targeting
Learn more about Interest Targeting in Scheduling Shortcuts, a course that teaches The Pinning Smarter method – a new pinning technique that gets results even with lower impressions.
If you have a text overlay on your pin, include it exactly (if possible) in your description. But write the description so it flows well. Include another related keyword and keyphrase or two, but don't spam the description with too many. Write it like you would a normal conversational paragraph with up to 500 characters.
Pin or Schedule Your Content
Now go pin and / or schedule your pin either manually or by using Tailwind or another Pinterest scheduling tool. Rinse and repeat.
The Secret to Fast and Consistent Pinning? Creating Bulk Pins
Now that we've covered the basics of how to create Pinterest pins, let's talk about how to create Pinterest pins in quantity.
Pinterest rewards consistency on the platform so you'll need to create lots of pins and be pinning around the same number of pins on a daily basis. Don't let this overwhelm you thought if you are just starting out or short on time. You can pin one or two pins a day – as long as you do so consistently.
The graphic design apps we mentioned above provide ways to make fresh pins from one image without them looking too similar. Do this in the app by using templates, zooming in / out on an image or by turning / angling it. Change up the text overlay slightly and move it around on the image, use different fonts and add or remove elements to make each pin look totally different.
Alternatively, use Tailwind Create to create multiple pins from a single design with just a few clicks.
A new automated pin design app called Pin Generator is a game changer – especially if graphic design isn't your strength. All you do is add one of your page, post or product URLs, choose how many pins you want created, select your colors, fonts and a template set, add your logo and it automatically generates pins for you using the images from your post or page! And they are editable so you can tweak them.
How to Improve Your Designs
Tailwind Create and Pin Generator all provide tutorials for improving your pin designs. Take advantage of these as they'll help you sharpen your design skills and that in turn will help improve the performance of your pins.
The next step is to manually pin or schedule your pins to the most relevant boards on your Pinterest account. Finally, do these monthly tasks to grow your Pinterest account.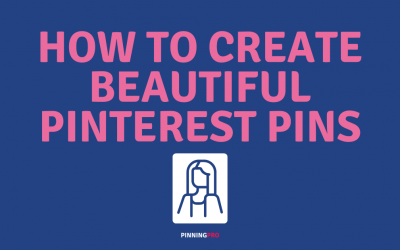 Pinterest is alllll about the pins. Every pin includes an image (or video), text overlay (not required but the majority of pins have one), a title, description and a link to your website, blog or online store.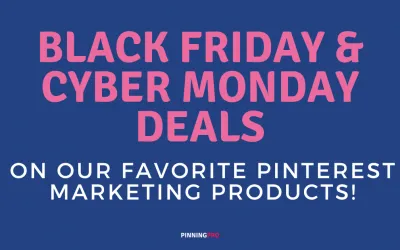 Take advantage of great savings with these Pinterest-related flash sales happening this holiday season.
When you think of Pinterest, it's alllll about the images. Learn about designing pins that get clicked.