Which Pinterest Podcasts Are Best? 
Looking for the best Pinterest podcasts? We're not surprised! 
Did you know that 116 million or 41% of Americans now listen to podcasts monthly? And it was estimated that podcast listening will grow to 132 million people in the U.S. by the start of 2023. It's a great way to leverage your time while doing things like driving or exercising.
Couple that with over 433 million active users on Pinterest and it's easy to see why podcasts about Pinterest are so popular!
A great way to learn about Pinterest is by listening to podcasts. Below are Pinterest marketing and business-focused podcasts where the host interviews Pinterest experts.
Simple Pin Podcast w/ Kate Ahl
In the Simple Pin Podcast, Kate Ahl, founder and owner of Simple Pin Media, shares how to use Pinterest to grow your business. She discusses the frequent changes Pinterest makes, tips, ideas, and strategies she's successfully used in her business. Kate also interviews people who are using Pinterest in creative ways to drive traffic to their site or blog, grow their email list and increase income.
Kate is a gifted teacher and speaker. She covers a wide range of Pinterest focused topics geared toward all levels of marketers and bloggers. She's all about providing useful and actionable strategies. You won't come away from one of her podcasts without at least one, if not several, takeaways to help you grow your business using Pinterest.
The Simple Pin Podcast started in 2015 and is the longest running podcast that is specifically about Pinterest – with over 300 episodes to date. And they're all about Pinterest!
Empowered Agency Podcast w/ Kate Ahl
Yes, Kate started a second podcast in 2022. The Empowered Agency Podcast is geared toward helping Pinterest (and other types of) agency owners (or those starting an agency) grow and scale their digital marketing business.
Marketing Strategy Academy Podcast w/ Jen Vazquez
Jen is a marketing strategist who helps women entrepreneurs succeed in marketing their business on Pinterest using her special time saving system.
Currently Jen focuses primarily on Pinterest marketing and discusses it frequently on her Marketing Strategy Academy Podcast.
Crush The Rush Podcast w/ Holly Marie Haynes
Holly is the creator the Crush the Rush method that helps bloggers and business owners maximize their time through systems and organization.
In this episode, 4 Steps to Convert Pinterest Traffic into Income, Holly talks with Pinterest agency expert, Kate Ahl of KateAhl.com. They cover how Pinterest is different than other social media platforms, how to effectively set up a Pinterest business account, pin creation and more.
Understanding Pinterest Traffic w/ Lauren McManus
Lauren McManus of Create and Go and author of the popular Pinterest Traffic Avalanche course now has a podcast called Launch Your Blog Biz. On this podcast, Lauren and business partners, Alex, Cathy and Noah share their best strategies for starting a blog, building an audience, increasing traffic and earning a full-time income online.
As author of a hugely popular Pinterest Traffic course Lauren is well qualified to educate about generating traffic on the platform. To make this podcast even more informative, Lauren invited top Pinterest expert, Kate Ahl, founder of Simple Pin Media, Simple Pin Ads Society and Simple Pin Podcast. In this podcast this dynamic duo discusses…

Past, present, and future changes on Pinterest

How Pinterest is not really a "social media" platform

Idea pins

Pinterest algorithm changes

And much more 
Listen to this very helpful and informative podcast all about Pinterest Traffic.
Staying Up to Date On Pinterest w/ Jason Logsdon
Jason Lodsdon has expertise in modernist cooking and self publishing. He presents at conferences and has written several cookbooks. And he also hosts the Makin Bacon Podcast.
Food bloggers are frequently advised that they need to be using Pinterest to grow their business. But with a constantly changing algorithm, frequent updates and new features, it feels like practically a full time job just staying up to date with it.
In this podcast episode, Jason interviews Pinterest Expert, Kate Ahl of Simple Pin Media. They discuss how Pinterest differs from other social platforms, the top mistakes bloggers often make and why Pinterest matters more than ever to your business.
Listen to this podcast episode about keeping up with Pinterest here. Or tune in on any of your favorite podcast platforms.
How to Succeed on Pinterest When You Don't Sell Physical Products w/ Dana Malstaff
Like many career-focused moms, Dana started Boss Mom because she was weary of feeling guilty about wanting to be a Mom and run a business at the same time. Little did she know then that pursuing her passions as an entrepreneur made her a better Mom! Dana went on to start the Boss Mom Movement which is the #1 Community for Mom Entrepreneurs. 
In this Boss Mom podcast episode, Dana interviews Kate Ahl, founder and owner of Simple Pin Media, who talks about how to use Pinterest when you don't have a consumer-facing business. She also covers what kind of content you should be publishing and how to build a content library on Pinterest. 
Interested in learning more about the Boss Mom Movement, visit Dana's website.
How To Use Pinterest As Part of Your Business Marketing Tactics w/ Barry and Shay Kostabi
Dynamic husband and wife duo, Barry and Shay Kostabi, are international fitness coaches and consultants. They aim to educate others in the fitness industry with actionable steps to advance their own fitness businesses. 
In this podcast episode, Barry and Shay interview Kate Ahl, founder of Simple Pin Media to teach fitness experts how to use Pinterest to market their business.
Visit their site Fitness Career Mastery to learn more.
And there you have it: our list of the best Pinterest podcasts and episodes.
If you know of any other recent Pinterest-focused podcasts, we'd love it if you would let us know using the contact form below so we can add it to our list to share with everyone!
Interested in starting your own podcast? Podcast Production School is a great place to start!
The more saves your pins get the more they will be served up to other audiences looking for related information on Pinterest.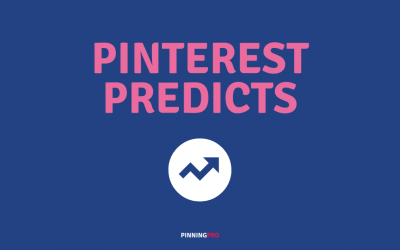 Pinterest Predicts research is based on in-depth search data and extensive analysis of user behavior and engagement. See what they're saying about 2023.
Use these practical, time saving tips for Pinterest marketers to help manage your account efficiently and effectively to grow your business.