Pinterest is Where Little Fish Can Compete with Big Fish
B2B Pinterest marketing strategies are going to be different from B2C strategies.
B2B or Business-to-Business refers to the process of selling products (physical or digital) or services from one business to another.
B2C or Business-to-Consumer refers to the process of selling services or products (digital or physical) from a business to a consumer (individual).
Some businesses / companies actually do both B2B and B2C. For the purposes of this article we'll focus on B2B businesses. A few well known B2B brands include Microsoft, GE and Intel. In the online marketing space, B2B brands (you may be familiar with) include Hubspot, Wistia and Shopify (ecommerce). Do any of these big brands use Pinterest? Shopify does and has 390K followers with 10 million monthly views on the platform.
Shopify shares pins
that link to their ecommerce resources, has boards that recognize women owned businesses (and other demographically owned businesses) and saves pins linked to blog posts and educational resources and tools as part of their overall Pinterest marketing strategy. Looking at
Hubspot on Pinterest
, we see immediate and obvious branding, tons of well targeted and keyworded boards, including pins about template tools, webinars, blogging resources, company culture, and so on. Hubspot's pin styles are diversified (static and video and different sizes) which appeals to a wide range of users. These 2 examples alone show just the tip of the iceberg on what smaller or less-well-known B2B brands can do, to drive traffic and reach other marketing goals using Pinterest. On Pinterest, the playing field is leveled. Unknown brands and big brands compete in the same space because of the "search engine" aspect of the platform.
Affiliate Disclaimer: This post contains affiliate links where we earn a commission if you sign up through them. However this in no way affects our recommendation. We actually all use the products, services, and courses we recommend.
B2B Pinterest Marketing Strategies 101
So let's learn how to develop B2B Pinterest marketing strategies that will be effective in reaching your unique business goals for using the platform. The first step is to know what your goals are for using Pinterest. Is it driving more traffic to your website or blog, increasing email signups, selling more products or services or something else? Next, understand that Pinterest is a visual search and discovery platform. That means it's more search, than social. People search using keywords and discover by scrolling through their feed. Keywords then are highly important on Pinterest.
Start by doing keyword research on the platform.
Much like you would do keyword research on Google for SEO purposes, you'll want to follow a similar (yet simplified) process for Pinterest. If you're already skilled at doing keyword research on Pinterest, did you know that there is now a legit
Pinterest Keyword Research Tool
? Yep, Pin Inspector launched in 2021 and is a real time saver.
Activate Rich Pins
. Rich pins are a type of organic pin that automatically syncs information from your blog or website to your pins. Rich pins include extra information on each pin. If you change anything on your site or blog, Rich pins update to reflect the changes. There are 3 types of Rich pins currently. Product, Recipe and Article. B2B businesses can take advantage of product and article pins. Product pins include the most recent pricing and related information right on your pin. Whereas article pins add the subject line, description and author of the blog post or page the pin links to.
Existing Business Assets You Could Share On Pinterest
Take inventory of your current marketing assets. These might include:
Blog posts
Brochures
Checklists
Courses
eBooks
Free downloads
Infographics
PDFs
Presentations
Printables
Slideshows
Success stories
Testimonials
Tutorials
Video tutorials
Whitepapers
Think of whatever you already have that you could create pins and boards for, to entice people to click over to your blog or site to learn more. Educate your audience and you'll attract attention and grow your following.
Create New Boards And Fresh Pins
Now that you have a good list of existing assets and resources that your target market is interested in, look over your Pinterest boards. Create new boards for categories or themes you don't have boards for yet – and that your assets are relevant to. For example, let's say you have a lot of product tutorials. Create a board "Product Name + Tutorials." Next, create fresh (new) pins using keywords related to the asset or resource. Use these keywords in pin text overlays, titles and descriptions. The images you choose should reflect the keywords in the text overlay or the resource the pin leads to. Use Pinterest's recommended pin sizes for the type of pin you create. If you aren't sure what those are,
download this Pinterest image guide
. On Pinterest, you don't have to be a graphic designer to create feed-stopping pins. Our pin designers here at PinningPro started with the
free version of Canva
and used it to create thousands of pins for 4 years before upgrading. Anything you want to create for Pinterest is available in Canva including pin templates and stock photos (if you don't have your own). If you are experienced in pin creation, be sure to make some video and idea pins to add to the mix. Idea pins are a perfect addition to B2B marketing strategies in the sense that they allow you to share mini tutorials, showcase products, courses, etc. with multi-page pins. If you'd like to learn more about idea pins, check out this
Idea Pin Workshop for small business owners and bloggers
. Or if you just need to speed up your idea pin development,  take a look through these
idea pin templates for different niches and industries
. Once you've created some fresh pins, save them directly to Pinterest (spaced out, not all at once) or
schedule them using Tailwind
to the relevant boards you already have or have just created. Continue to build your inventory of boards and pins that are relevant to your products and services. Save your pins to relevant boards only. Relevance is hugely important to how Pinterest ranks your pins and boards. So is consistency. Whether you have time to pin 1 x per day or 20, keep your pinning consistent.
Engage On Pinterest
Engaging on Pinterest is a bit different than engaging on the popular social media platforms. That is because it's about search and discovery over sharing and recommending. But you can still engage! Here are just a few ways. Follow related but non-competing boards or accounts. Typically you'll want to follow boards over entire accounts as it's unlikely you'll be interested in all the boards another business creates. Check for updates, inbox and engagement notifications. Respond to them when it makes sense to do so. If someone comments on one of your pins, reply to them and thank them. Invite them to take another action if their comments lends itself to doing so. Follow boards from companies you'd like to do business with. Save their pins on occasion but avoid overdoing it. Heart (like) some of their pins too. Not all businesses are paying attention to engagement on Pinterest but many are becoming more aware of it. It doesn't take long and it certainly doesn't hurt.
Analyze and Adjust B2B Pinterest Marketing Strategies
Review your analytics in Pinterest, Google and Tailwind (if you use it) to monitor how your pins and boards are performing. Make adjustments based on what you discover in your metrics. To do a quick analytics review, look at your metrics over the last 30, 60 or 90 days and then yearly. Pinterest → at the very least, look at outbound clicks and saves Google → go to Acquisition → All Traffic → Referrals Tailwind → sort and inspect your pins in the inspector area Use what you learn from analytics to inform your B2B Pinterest marketing strategies. Make changes and adjustments accordingly.
Pinterest Advertising
This article is focused on organic B2B Pinterest marketing strategies, but there is also the option to advertise on Pinterest.
Learn more about advertising on Pinterest here
.
Wrapping Up
With strong B2B Pinterest marketing strategies, you'll be building up yet another platform where other businesses may discover your business. Most likely you won't need to create a whole ton of new content or resources. Instead, repurpose or turn your existing resources (assets) into pins, video pins and idea pins. If you're just ramping up on Pinterest, create one board and a few pins each week. Keep chipping away at doing this but make sure you stay intentional. Always be thinking "how will this serve the businesses we want to attract?" Use researched keywords, images relevant to your content, save to boards that are relevant in topic. Activate Rich pins. Be consistent every day. And spend some time on Pinterest as a pinner, paying attention to how you discover new businesses, ideas, products, services or whatever it is you search for. Remember what your goals are at all times and create valuable content, products and services the businesses you target need. Always be thinking about how to showcase your business to other businesses and take action to do so. Try different tactics and styles of pins. Experiment and strive to think originally and creatively. Businesses who use B2B Pinterest marketing strategies are seeing increases in brand awareness and in website / blog traffic. Many are reporting that Pinterest is in their top 3 referrers of traffic! Once you get a new audience to your site or blog, you can then move them through the customer journey all the way to the sale.
The more saves your pins get the more they will be served up to other audiences looking for related information on Pinterest.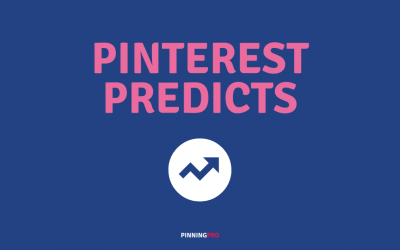 Pinterest Predicts research is based on in-depth search data and extensive analysis of user behavior and engagement. See what they're saying about 2023.
Use these practical, time saving tips for Pinterest marketers to help manage your account efficiently and effectively to grow your business.