Ever since it became a publicly traded company, advertising on Pinterest has grown dramatically. And the demand for ad management services has exploded.
You can use Pinterest ads to build awareness about your products and business, attract more traffic to your website or blog. Ads can also be used to drive newsletter signups, membership subscriptions and / or sales. If you run an offline brick and mortar business, you can advertise on Pinterest to increase your in-store purchases.
Because Pinterest is such a highly visual platform, ads come in "visual-first" formats. These include…
Standard ads – vertical format
Video ads – for telling a story
Collection ads – mix lifestyle images and video to showcase products in action
Carousel ads – multiple product images in one ad that are swipeable
Shopping ads – convert organic product pins into ads
Pinterest Ads Portal
The Pinterest Ads portal is now pretty robust and includes the following sections…
Create ad
Overview
Reporting
Custom reports
Bulk editor
Conversions
Audiences
Ad account history
Billing
Catalogs
Affiliate Disclaimer: This post contains affiliate links where we earn a commission if you sign up through them. However this in no way affects our recommendation. We actually all use the products, services, and courses we recommend.
Get Started Advertising on Pinterest
If you don't have advertising experience on the Pinterest platform, you might get a little overwhelmed when you're just getting started. We totally understand this here at Pinning Pro as we are primarily organic Pinterest marketing managers. However, when the demand for Pinterest advertising services started skyrocketing we knew we needed to learn more and expand our offerings.
You can absolutely try running Pinterest ads on your own. But when you're spending money on advertising, you want to make sure you at least have the foundational elements in place, aka a roadmap. To gain knowledge and skills for advertising on Pinterest, we joined The Simple Pin Ads Society as founding members.
The Ads Society includes an ever-growing portal with training workshops, video tutorials, live Q&As and a forum where you can ask questions. It's a great way to gain more confidence in knowing you're moving your business (or other businesses) in the right direction. And all without spending crazy amounts of money on ads. If you're a Pinterest VA or thinking of becoming a PVA, consider adding this skill to your résumé, CV or service offerings.
Pinterest Presents
In 2021, Pinterest hosted their first ever global Advertiser Summit called Pinterest Presents. The emphasis was on the platform being one of the most positive places online where people come to "look forward" and "where ads inspire rather than interrupt."
If you aren't that familiar with advertising on Pinterest yet, ads are actually pins. In other words, they are pins that you pay for to get shown more prominently.
The Pinterest Presents Summit covered key topics about why marketers and businesses should consider advertising on the platform. Some of these topics were…
460 million monthly active users (fastest growing audiences are men & Gen Z)
Future oriented behavior (planning, dreaming, creating, building)
Video advertising (1 billion videos viewed per day(!) and growing)
The ability to target video ads to a specific category or demographic
A broad reach for marketing campaigns and product launches
A new automated bidding tool
Conversion analysis
Because the platform is smaller than other popular social media platforms (like Facebook for example), advertising on Pinterest is less costly. If your audience is on Pinterest, using a combination of organic marketing and promoting ads can be a powerful strategy for driving traffic, leads and sales.
Pinterest ads have caught the attention of influencers in highly competitive industries including travel and fashion. Recently, Business of Fashion stated that advertising on Pinterest is "a sleeping giant when it comes to brand marketing."
Ad Costs and Strategies
Pinterest advertising is not just for big brands either. Bloggers and solo business owners can successfully advertise with budgets as small as $10 per day. Another seldom mentioned but amazing perk is that even after you stop paying for your ads, they stay on Pinterest and continue to drive organic traffic to your website indefinitely!
Pinterest ads are not one size fits all. Strategies vary from business to business. And advertising strategies you might be using on other platforms like Instagram or TikTok, will not work the same on Pinterest. It takes time, experimentation and analysis to find the right strategy for this unique platform.
The Pinterest ads section in your account provides a high level overview of how to get started running ads. Strategy takes time to develop though. If you want to shorten the learning curve or simply level up on your Pinterest advertising, consider joining the Simple Pin Ads Society. If the cart is not open, get on the Waitlist to be informed of the next opening.
Advertising on Pinterest is something to consider adding once your organic Pinterest marketing is driving clicks to your site, blog or store. Be sure to learn before spending though as it's easy to drain your budget quickly doing any form of advertising.
Speed up Pinterest pin ad design with these Pinterest ads pin templates. 
Offer Promoted Pins / Pinterest Ads as a service to bloggers and small business owners as a side hustle too.
The more saves your pins get the more they will be served up to other audiences looking for related information on Pinterest.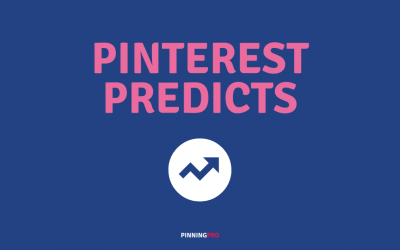 Pinterest Predicts research is based on in-depth search data and extensive analysis of user behavior and engagement. See what they're saying about 2023.
Use these practical, time saving tips for Pinterest marketers to help manage your account efficiently and effectively to grow your business.